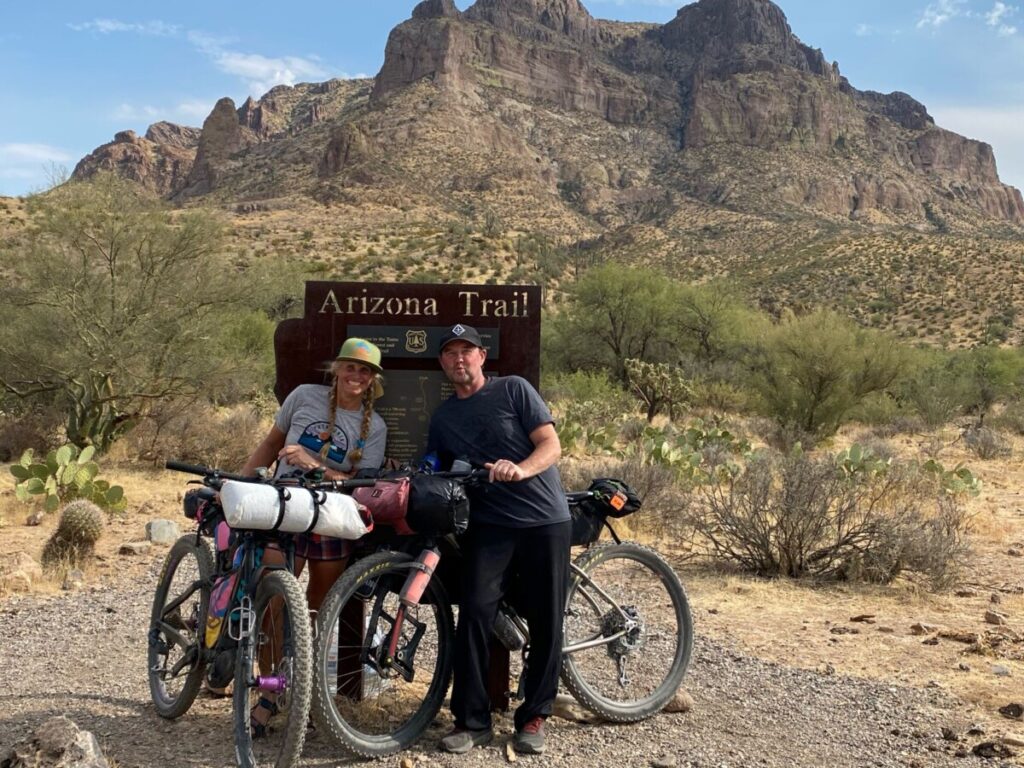 Jason and Jennifer Hanson, two of the most amazing people you will ever meet, recently finished the AZT 300 bikepacking ride (also known as the Arizona Trail Race). The Arizona Trail runs from Mexico to Utah covering rugged and unforgiving terrain with extreme temperatures ranging in the 100's to sub freezing. One option is to ride the 300 mile route that finishes just outside of Superior Arizona. Jason Hanson completed the full 750 mile route in 2015. This year, the couple took on several bikepacking challenges together. Here's their recount of this epic ride!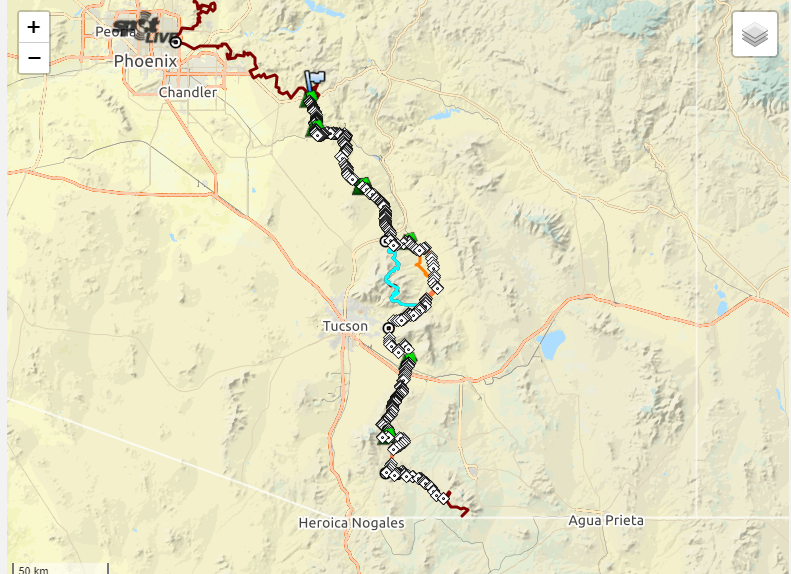 ---
The Arizona Trail 300 – by Jason & Jennifer Hanson
Ours was a ride from two perspectives. Redemption and reflection. For Jennifer, it was an opportunity to finally get the monkey off her back after two prior attempts and for me an opportunity to reflect and rekindle the fire. We went into the ride with no expectations other than to be mindful of our surroundings and take it all in. Our only objective was to complete the ride in as much time as needed.
This years format for the AZTR was set up as an ITT (individual time trial). This lent well to our goals. With a group start, it's easy to get caught up in the race dynamic early on, and we really needed to focus on the basics and keep things slow and steady.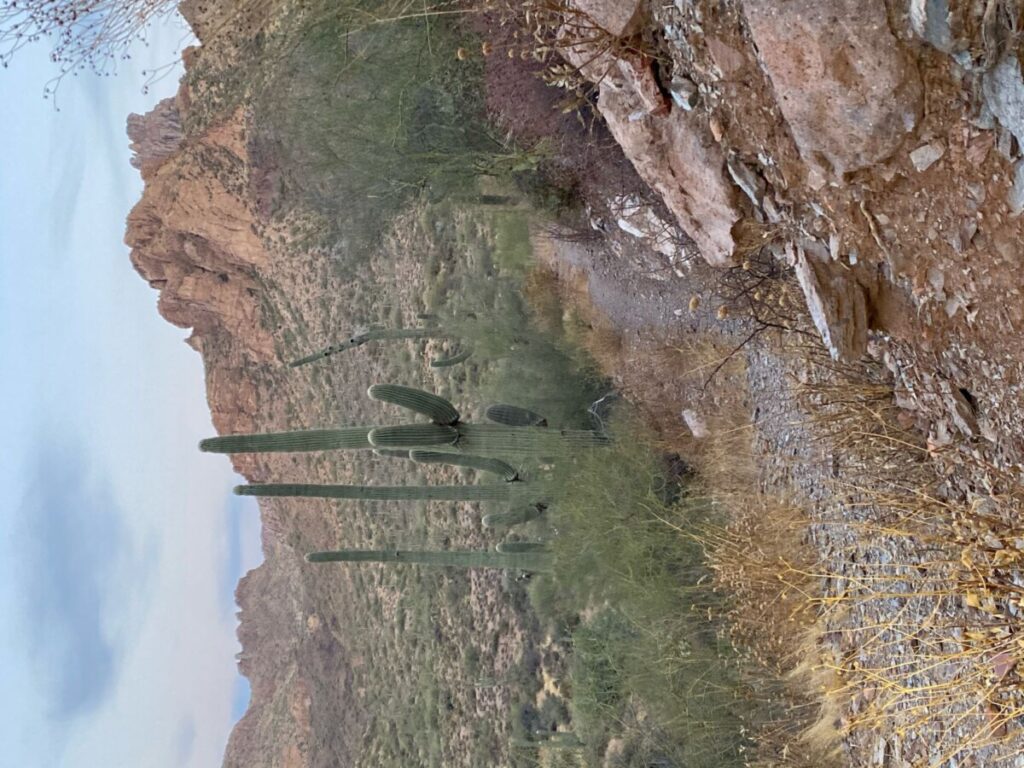 DAY ONE
We started on a Friday morning for no particular reason other than it suited well with prior work commitments. We started from Parker Canyon Lake at 7:45am. We had intended on starting earlier but keeping true to the notion that it was more about the journey, neither of us were going to sweat the little things. The first two sections of the route are thru the Canelos which arguable are one of the hardest portions of the entire ride. Not extremely difficult, but a lot of up and down with tons of exposure. With temps still in the 105 degree range we took it slow but still made decent time. We strolled into Patagonia around 4:30pm for a much needed resupply and a sit down dinner at Elvis Pizza. After dinner we continued on for another 20 miles or so and bedded down for the night outside of Sonoita.
Day 1 – 51miles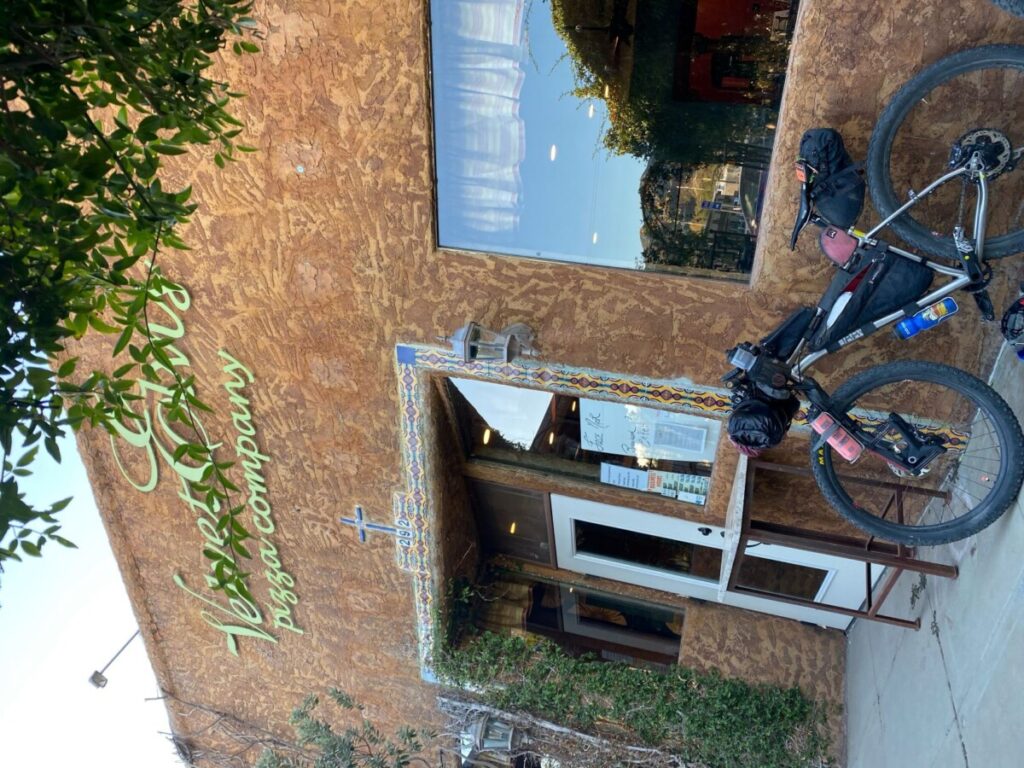 DAY TWO
Day 2 we woke up at 6:00am, again not particularly early but waited until first light. We packed up our gear and were on our bikes by 6:45. Breakfast consisted of some left over pizza from the night before and a pop tart. Day 2 was a real kick in the teeth. Again not particularly hard but a lot of hike-a-bike sections that on fresh legs would be rideable. Still wanting to save energy and work on pacing ourselves, we took it slow and meandered our way through the desert making it into Tucson. We bedded down early that night at around 8:30pm feeling spent from the days effort. With no resupply options for the day we were limited to what we had purchased the day before in Patagonia. We managed to scrape up some junk food from our frame bags and lay under the stars at a camping area next to Colossal Caves. The plus side was that there was a water spigot so water for the first time in two days wasn't going to be a concern.
Day 2 – 50 miles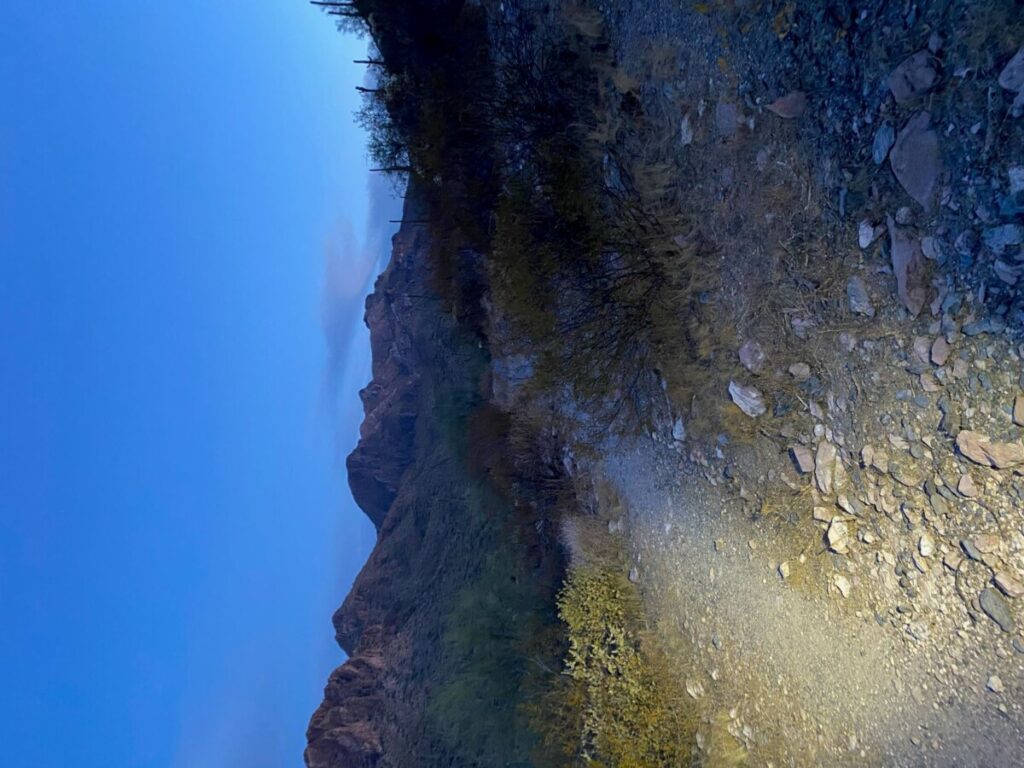 DAY THREE
Day three started at our seemingly pre determined time of up at 6 and rolling by 6:45. This morning felt better than the two previous partially because the terrain had eased up a bit, and partially because we made a conscious effort to hydrate all night. We made our way about 10 miles or so and came to a market offering not only a resupply but a modest breakfast of waffles and breakfast sandwiches which we devoured like it was potentially our last meal. Day three was a big push with lots of jeep road and dirt road riding we pushed until 9:00 pm and made it to San Manual. We resupplied at the local convenience store and Jen inquired about possible sleeping arrangements. The clerk told Jen of a small hotel less than 1/2 mile away and graciously called the owner for us. The owner came down to the store and we followed her back to the hotel. She must have thought that we were in better shape than we are because it took everything I had to keep her in my sights as she led the way in her Toyota Camry.
Day 3-80 miles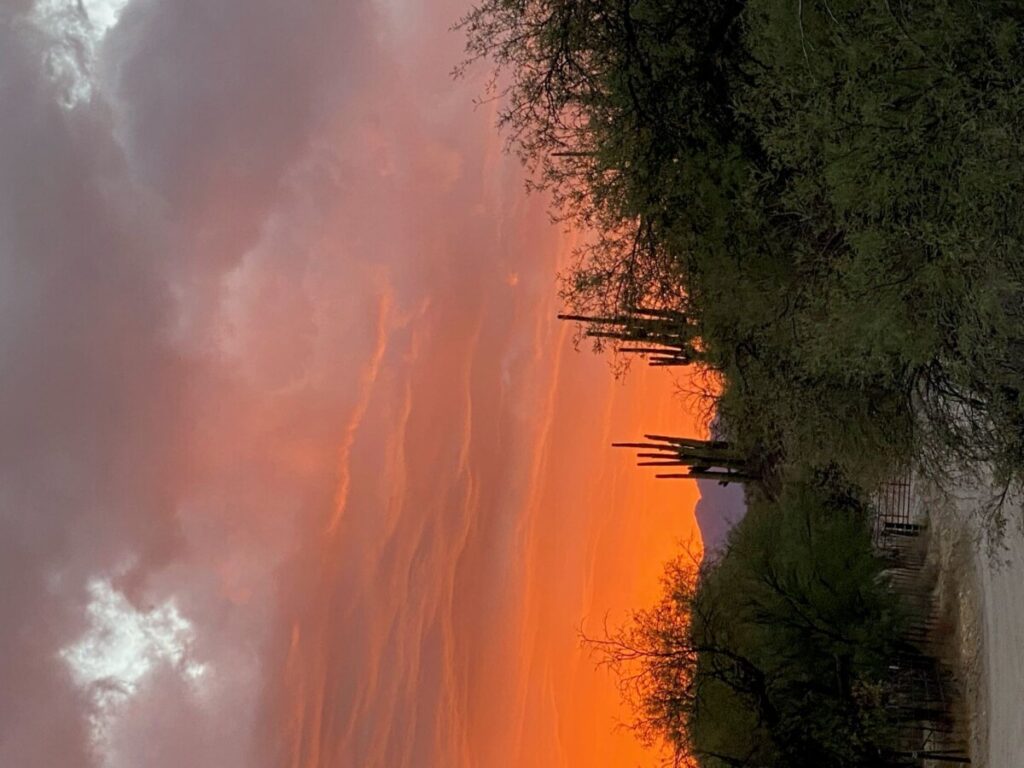 DAY FOUR
Day 4 was a little easier to get going since we didn't have to pack up our sleep kits. We jumped on our bikes at 6:30am and swung back through the convenience store and picked up a couple more food items realizing that there wouldn't be anymore resupply options until the finish. That would be roughly 120 miles. Day 4 had been in Jen's radar for awhile. There's a section of the AZT known as Tiger Mine and it is deceptively difficult. Not to say that it's partially hard but it just goes on and on. It's only 28 miles in length but takes forever. We spent most of day 4 riding methodically taking short breaks when need be just to take the sting out of how slow going it really was. We finished the day as temps started to drop and winds were picking up. It was obvious that some type of storm front must be moving in.
Day 4- 42 miles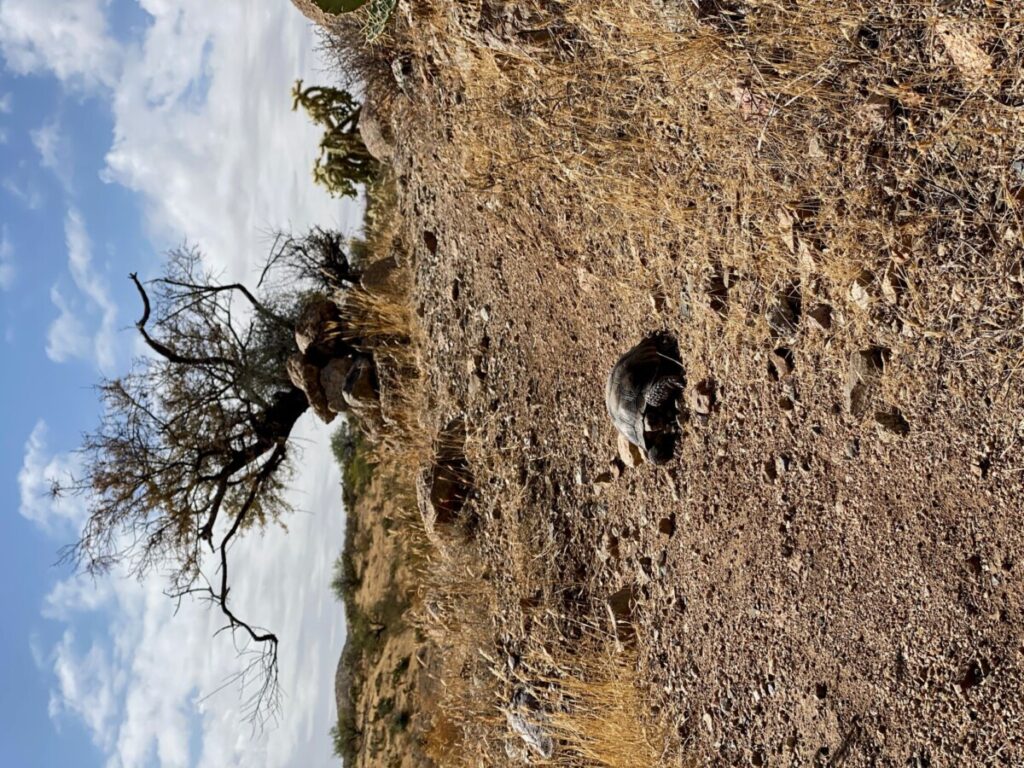 DAY FIVE
We woke up on day 5 to a rapidly cooling 27 degrees and as we packed up it began to snow. We were only about 2 miles down the trail when the snow really started coming down and it was apparent that we had some decisions to make. We hadn't packed any warm gear as forecast hadn't shown us any sign of temps dropping below 50 degrees at night. Our sleeping kits were wet from the night before and it didn't look as if it was going to warm up enough to dry things out. We decided to call it quits and headed back to Freeman trail head with our heads held down in shame. We arranged for Shelby, our daughter, to come pick us up and as we pedaled in the snow toward her I could hear the disappointment in Jen's voice. I have completed the AZTR 750 so for me this was an opportunity to find the stoke and reignite the fire but for Jen this was her third go at the AZTR300 and she had vested herself completely in her training. She needed this.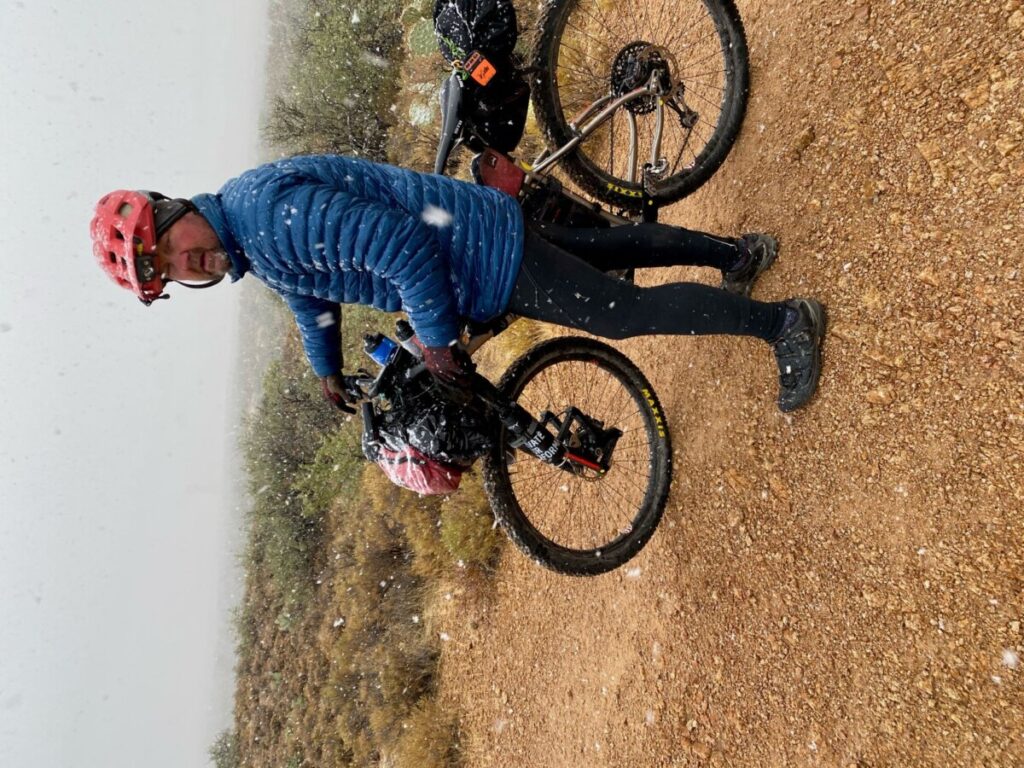 On our way home with our hat in our hands Jen sent a message to the race organizer letting him know we were out. As she spoke I could see her demeanor change and her eyes lit up. He had told her that it was no big deal and that since we were doing the ITT to wait for the weather to pass and get back after it. We decided to give it a couple days for the trail to dry up and started again from Freeman trail head.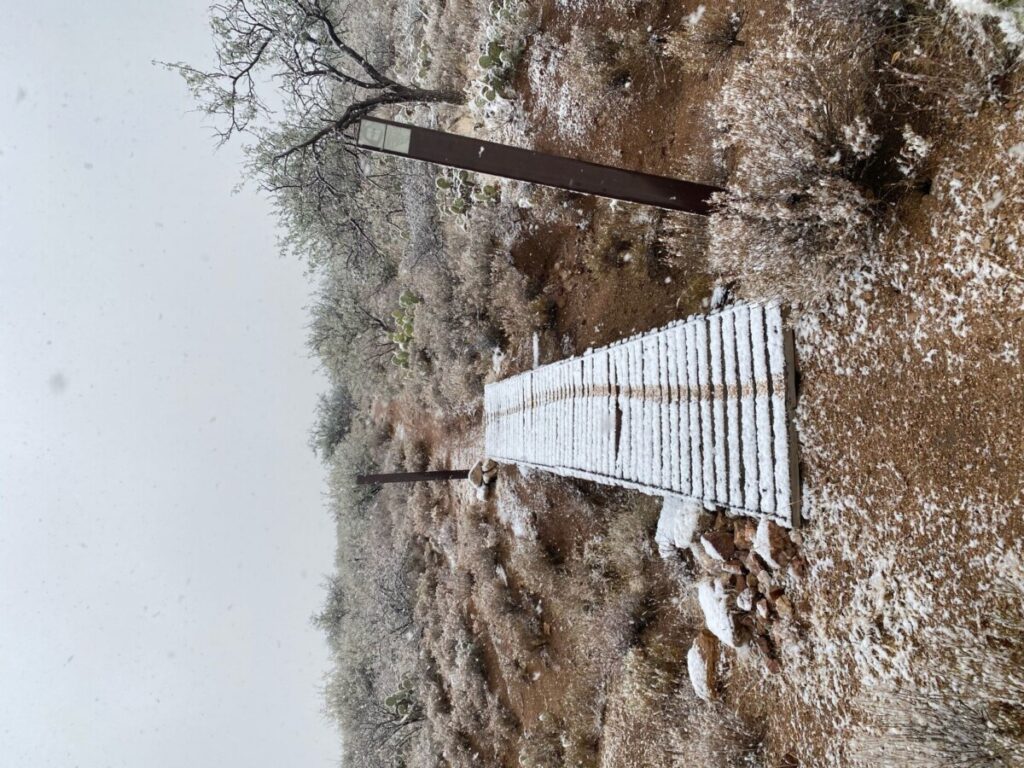 DAY FIVE REDO
Day 5 redo. We started at about 7:45 on Saturday October 31st from Freeman trailhead. We had a plan to ride straight through to the finish which is only about 65 miles. The first part of the day went very well and were right on pace with our goal. Things took a slight turn mid day as temps started to rise and Jen started slowing a bit. We made it to the Gila River at the bottom of the Gila Canyons where we had some sandwiches and filtered our water from the river. The next section is about 24 miles with an incredible amount of hike-a-bike. We hiked up the canyon for a couple miles to a camping spot that we had used on other over night trips. We made the decision to camp the night, I mean, Halloween and a Full moon. Couldn't ask for a better night to sleep out.
Day 5-46 miles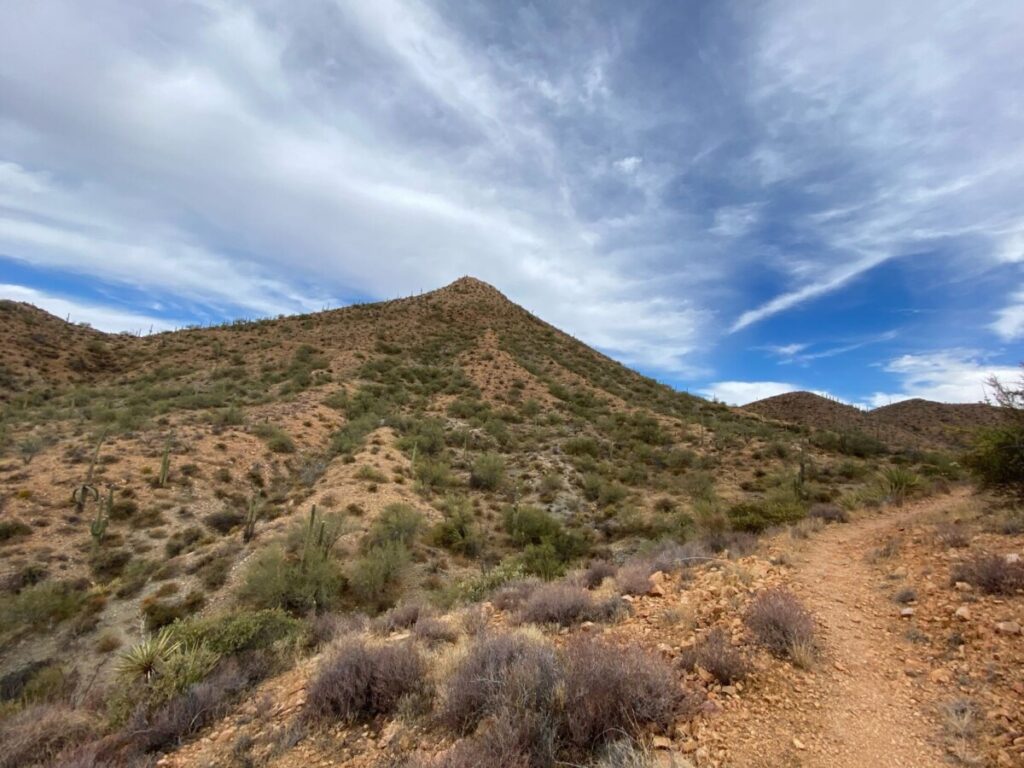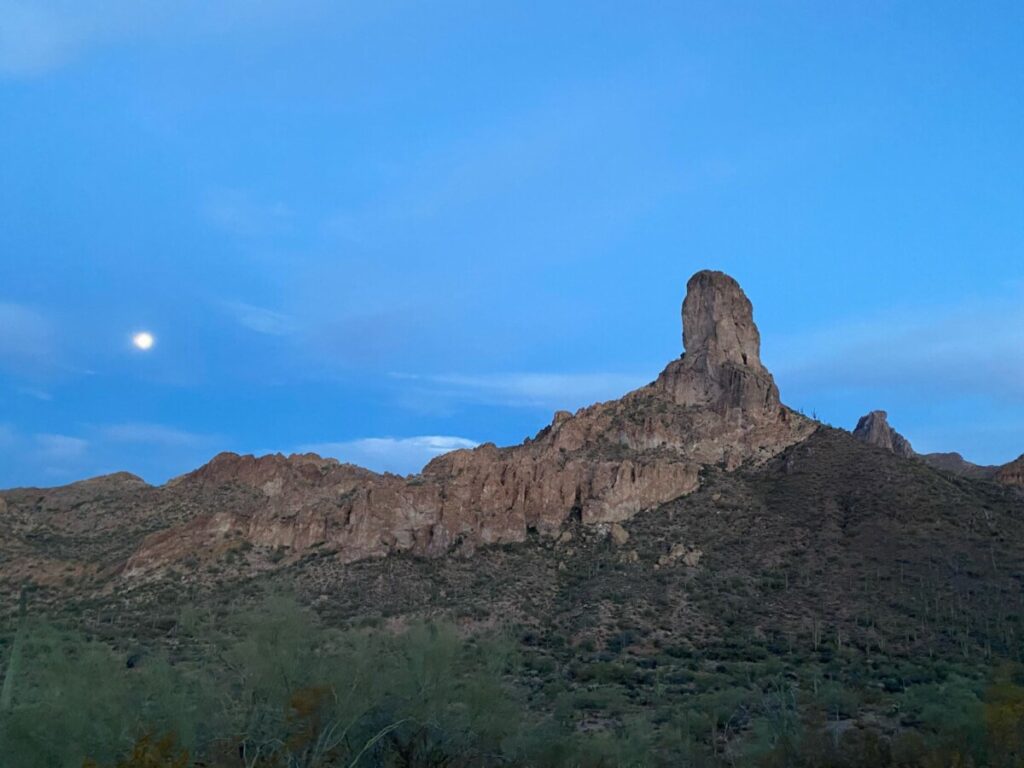 DAY SIX
Day 6 started at 6:30am. We woke up in the night and realized that Jen's bladder in her hydration pack had leaked out most of its water. It wouldn't have been that much of an issue but it's hard to predict exactly how much water you'll need to get to the finish. The other issue is that it had leaked out all over her bib short and Jersey . Luckily they dried before morning. We made the last 19 miles relatively smoothly. The first part of the day went slow with a lot of pushing the bike but I could see Jen's enthusiasm and excitement rise the closer we got to the finish. She was riding things that normally she wouldn't have and the grin on her face kept getting bigger as the miles ticked by. We crossed the line at about 1:30 on Sunday afternoon.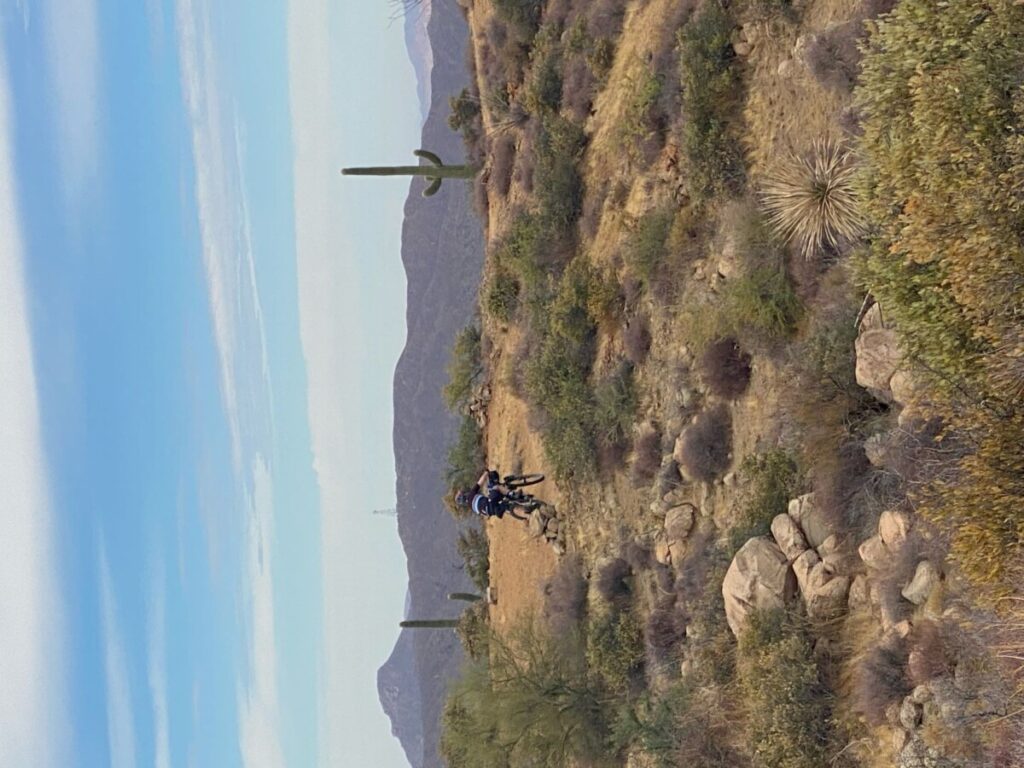 The Monkey is gone and the fire burns brighter than ever.
FINISHED!