This is my comeback adventure race after two major concussions / mTBIs (traumatic brain injuries) in two years. To give you some background, I only started riding my bike this past April and within weeks had decided to do the Arizona Trail 300 bikepacking race. When I started riding, I had to relearn how to balance, track my eyes with the movement of my bike, not let the bumps on the trail hurt my head, do multiple things at once like pedaling and moving my head to look around. Plus I was out of cycling shape and anxious about another crash. Yet, for some strange reason, I thought bikepacking would be a good way to ease back into cycling and I really wanted an adventure after being sidelined for a year and a half. A year ago, I would have thought this was impossible because all I wanted was to be a normal independent person.
It's been just over 2 years since my mountain biking accident that changed my life where I woke up in the middle of the Happy Jack forest near Laramie, WY after being unconscious for several minutes, and just over a year since my second major concussion from walking into my door jam at work that changed everything.
A year ago I was in a very different place- the second mTBI turned me into a different person. I had extreme bursts of anger, short-tempered, short term memory loss (I would forget what I was talking about mid-sentence or forget what exercise I had just done at my physical therapy sessions), struggling with light sensitivity (going outside, working on my computer, or to the grocery store was painful), reading with double vision, unable to control my emotions, feeling like I was always moving (even when I was still – as if I were drunk), overwhelmed with my environment, exhausted, word-finding issues and only able to do short walks for exercise. That's where I was – but this is where I am now.
The Arizona Trail Race reminded me that even in our toughest moments (like recovering from a brain injury) that there is more power inside that we can tap into to keep moving forward. When we push through – the reward will be there waiting…
Day 1: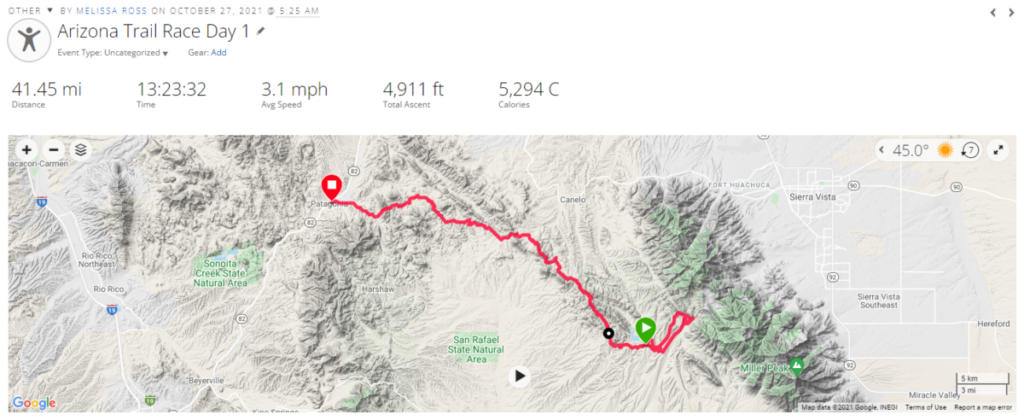 On October 27th, Jennifer, Jason Hanson, and I left the hotel at 3:30 am and started around 5:30 from Parker Canyon Lake.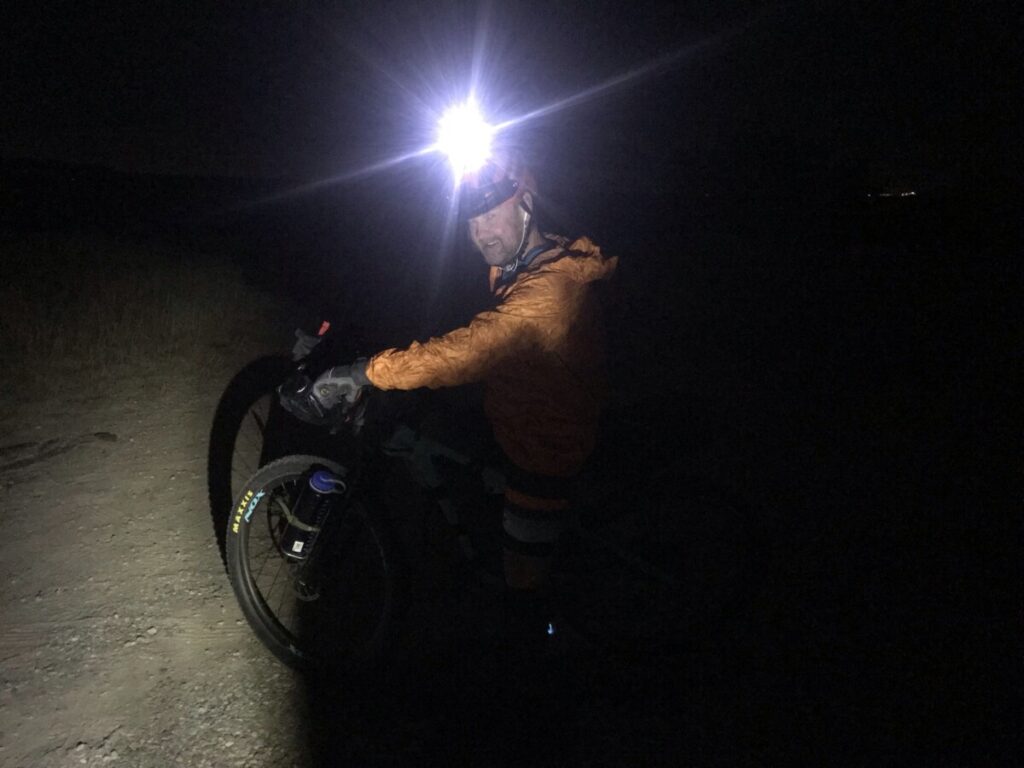 The first loop had some climbing up forest service roads and singletrack through the woods. Then we headed to the famous Canelos section. This is where the adventure got real!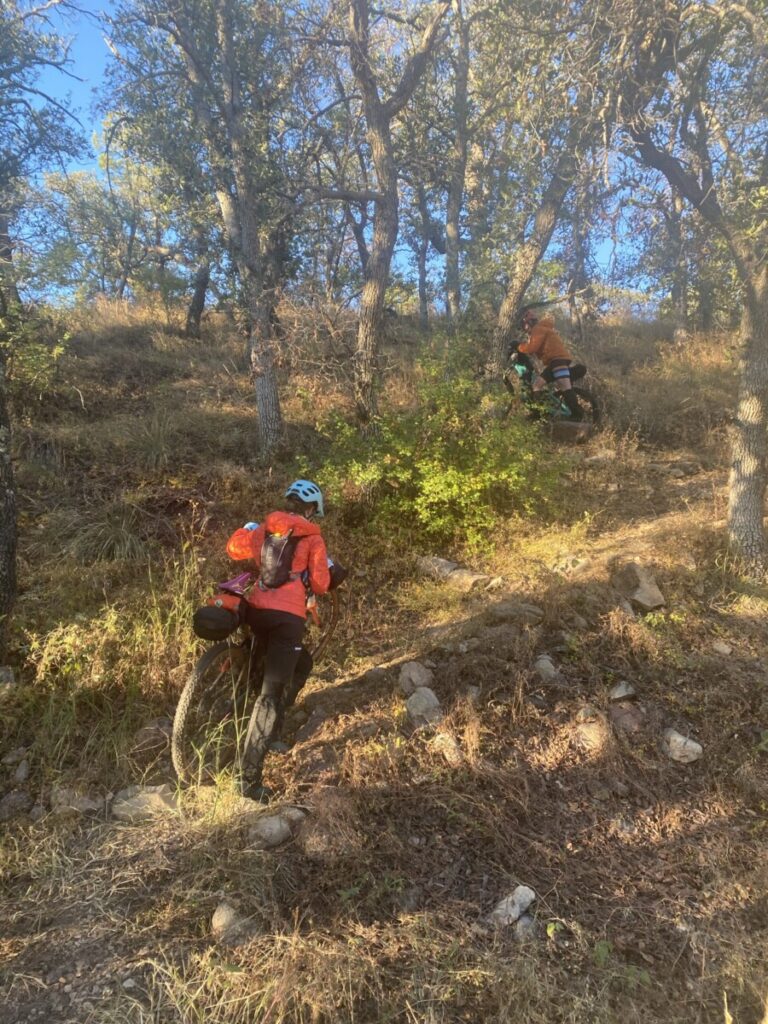 The Canelos had lots of steep climbs to hike a bike. Rolling hills turned into bouldering switchbacks. My upper body was wrecked! I wasn't prepared for the amount of full bodywork this would require.
Jason started with broken ribs and kept crashing so he was hurting and not showing it. In the second section of Canelos, we went through flatter sections of rolling grasslands but lots of weeds from all the monsoon rains had overgrown the trail. Our gaiters and arm sleeves were a lifesaver from the catclaw and pigweed. Some sections of the weeds made it challenging to see the trail.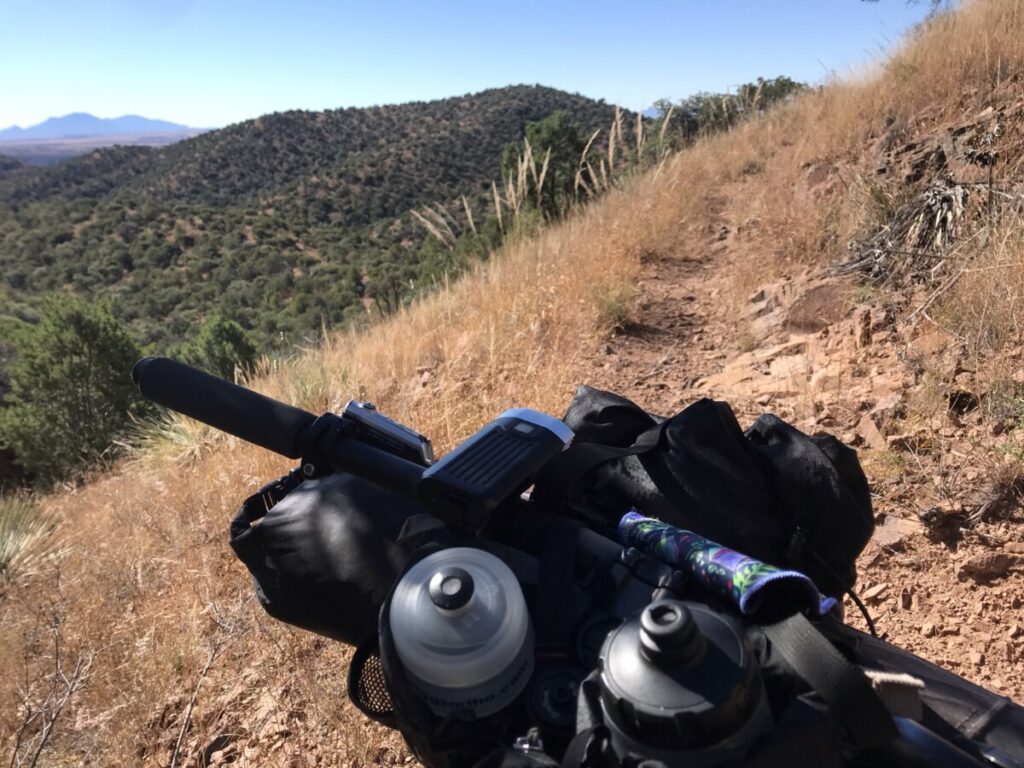 There was a section of private land the route crosses through that you have to get through before sundown and we were not going to make it so Jason called John Schilling, the race director, and asked if we could take the alternate route of AZT that would put us through Patagonia. That route was also overgrown but we made it to the top of the climb just as it was getting dark and into town just in time for a real meal. I loaded up on spaghetti and meatballs and Jennifer and I got a hotel room for the night. That was my longest day on the bike ever at 13.5 hours and I needed a good rest and shower to get me back out. Jason scratched that day so he could focus on healing those ribs.

Day 2: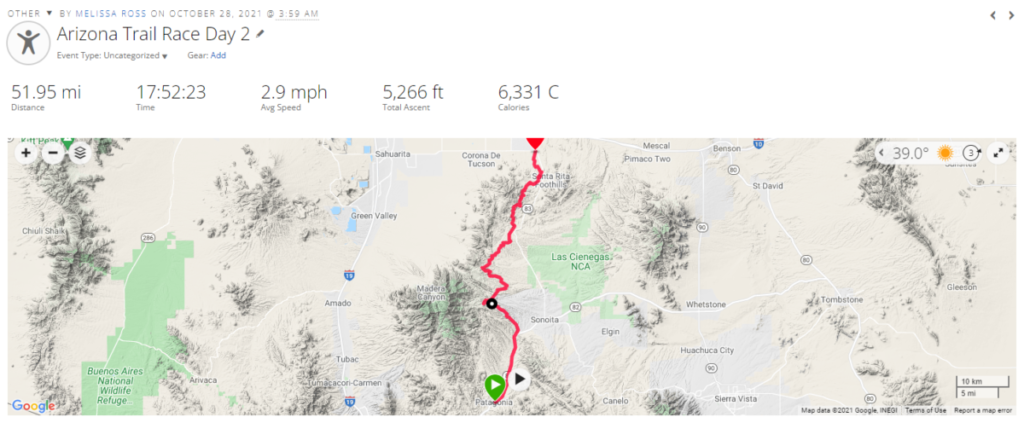 The next morning, Jennifer and I left by 4 am and had a 4-mile ride up the highway to get back on the race route. This day felt like a nice cruise as we had mostly gravel roads and wide-open grasslands and rolling hills. After all the hike a bike the previous day it felt good to just pedal. The morning was in the mid-30s so I was bundled in my puffy jacket and leggings.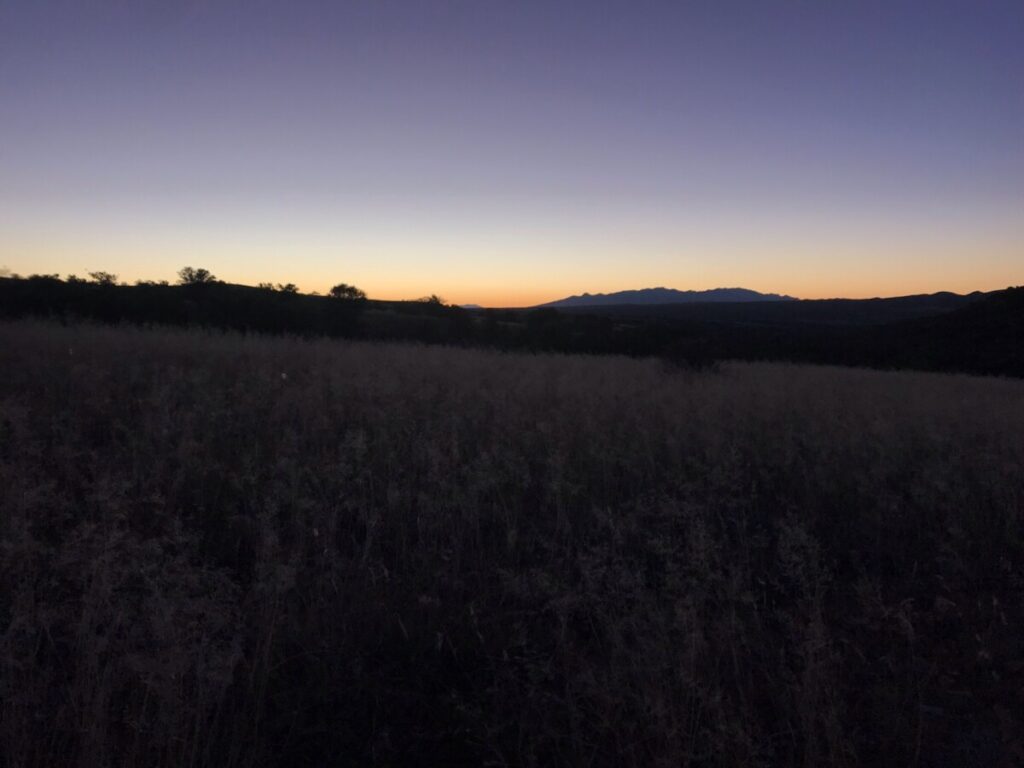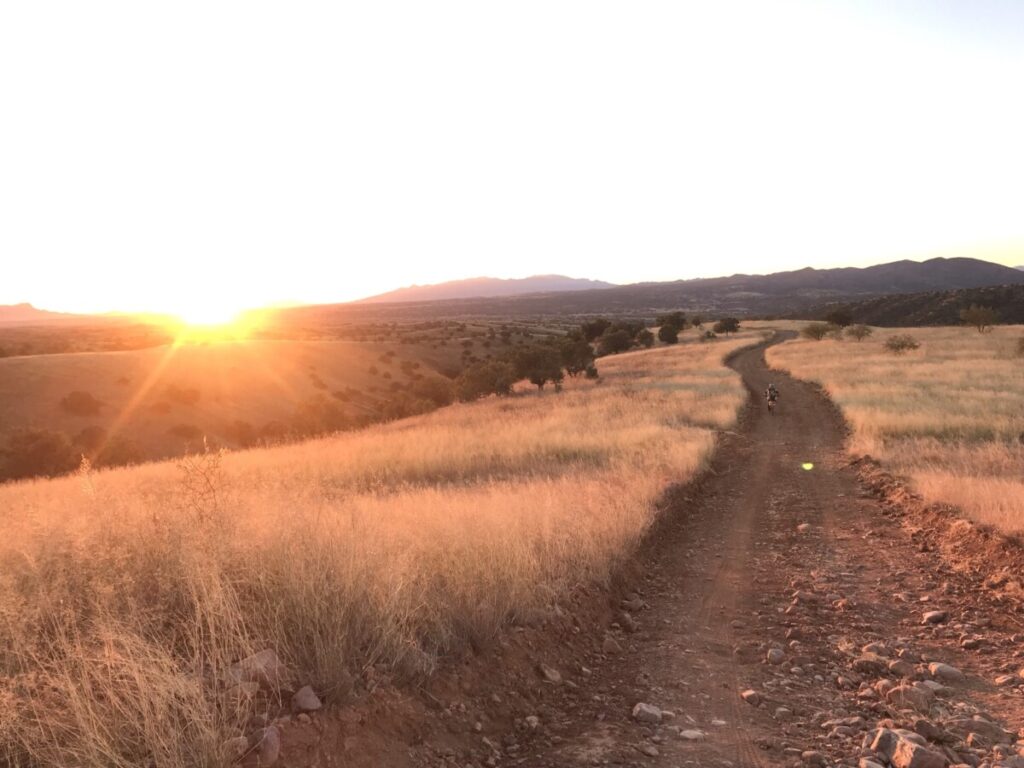 Once the sun came up I was stripping down to my jersey and arm sleeves. When we reached Kentucky camp, there was a water spigot that we could top off our water supply.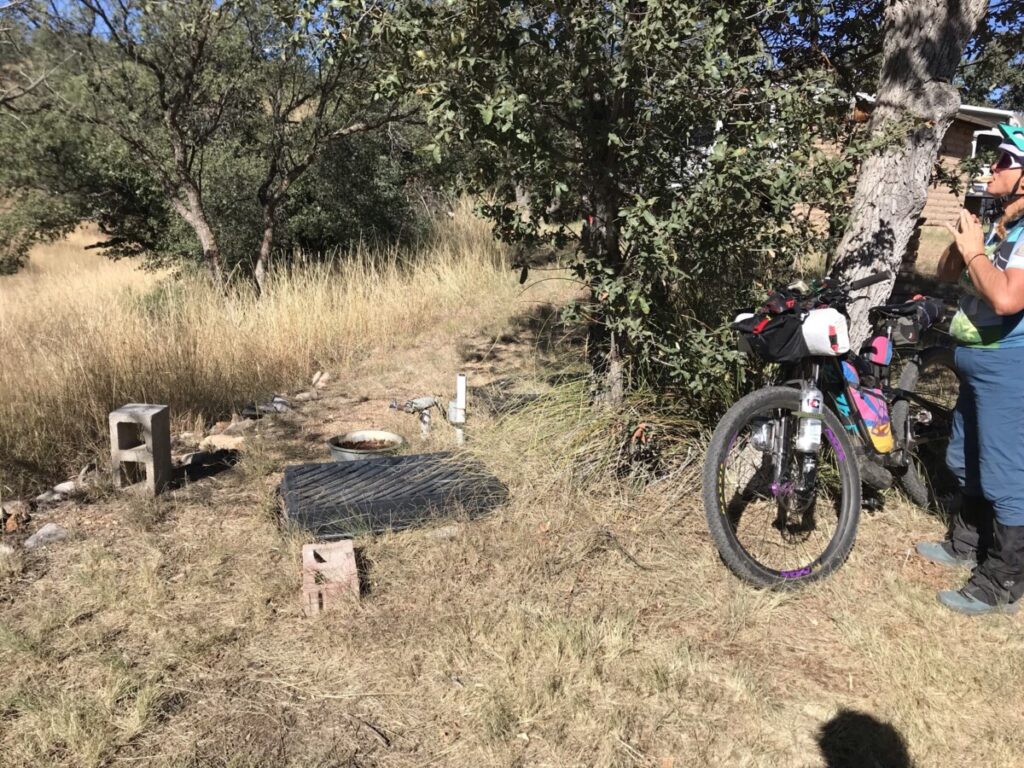 The main group of bike packers had started in the morning so we knew that the fastest riders would catch up to us later in the afternoon. As the heat of the day hit us, we crossed a dirt road to find a surprise cooler of cold drinks, snacks, fruit, and chairs left by a trail Angel "Cooper". We sat down to enjoy sitting in the shade and drinking a cold Pepsi.
The sunsets were early in AZ so by 5:30 pm we were getting our lights out and I took out my contacts to ride in my glasses. That evening we had some longer climbs and lots of those climbs were going up and down each hill through thick overgrown weeds and sandy washes.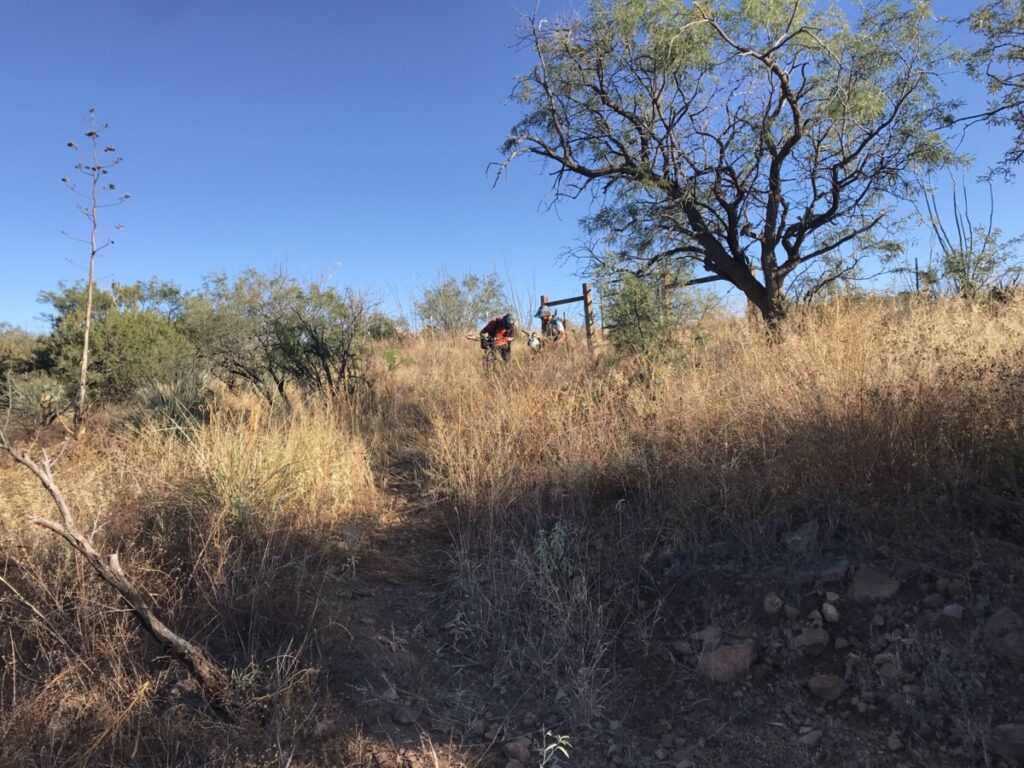 The lead rider, Kurt Refsnider, caught up to us at the top of a climb and stopped to talk for a few minutes. He gave us a few pointers on some unknown water sources which came in handy later on. As he rode away it was like he vanished! It was only about 90 minutes later that the second person who was Kait Boyle caught us too. She was coming off of a traumatic car accident so to see her riding so well was very inspiring. She took the time to talk too and then headed on her way.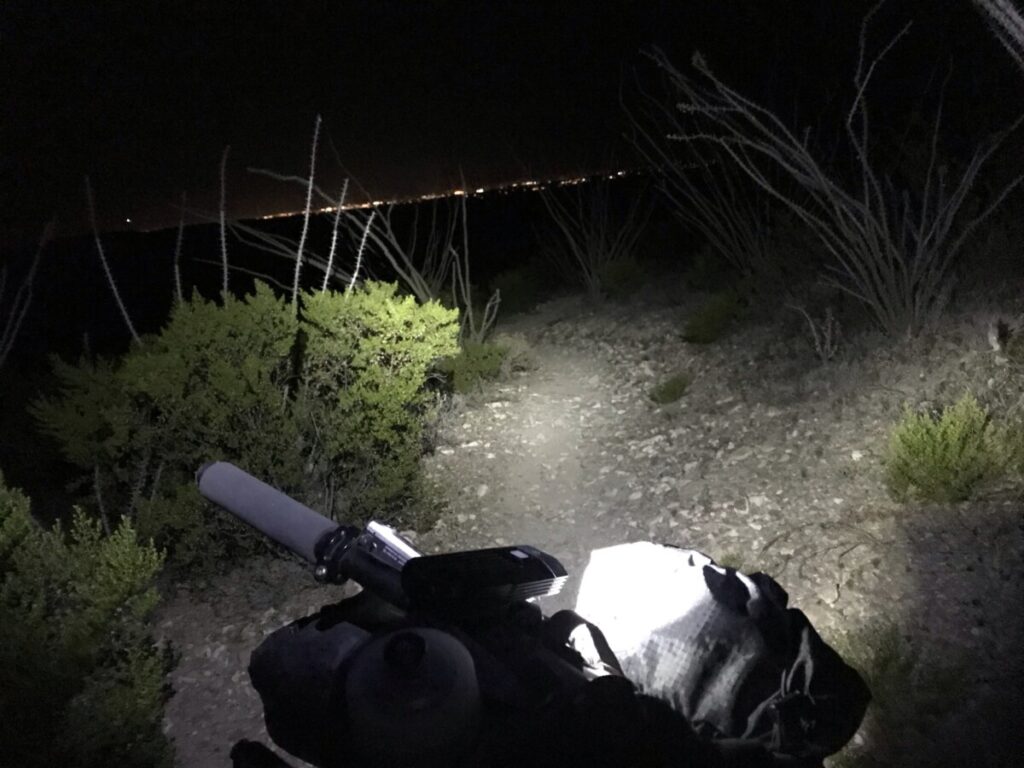 The last section for us seemed to go on forever. It was a long downhill of zig-zagging to get to the Santa Rita trailhead and cache box. Before starting the race we dropped off some water to help stock the cache. These boxes are lifesavers to all the riders and through-hikers of the Arizona Trail as they have water and sometimes snacks. Jen and I made camp right at the cache box and enjoyed a late-night snack of tuna and crackers.
Day 3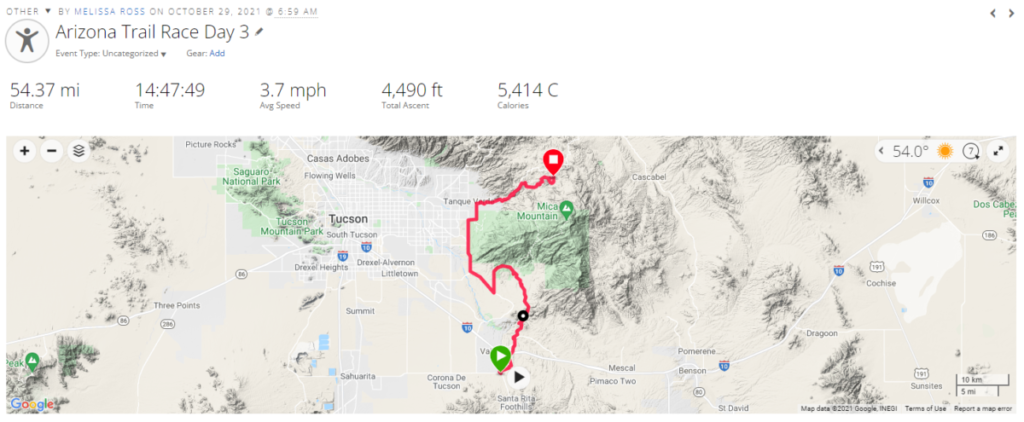 The third morning I woke up feeling more stiff and tired. From my experience as an athlete and a coach, typically, day 3 of a multi-day event is the hardest. We topped off our water before heading through some flowing singletrack into the Colossal Cave area. This was more familiar to me as I had ridden a section of this trail before.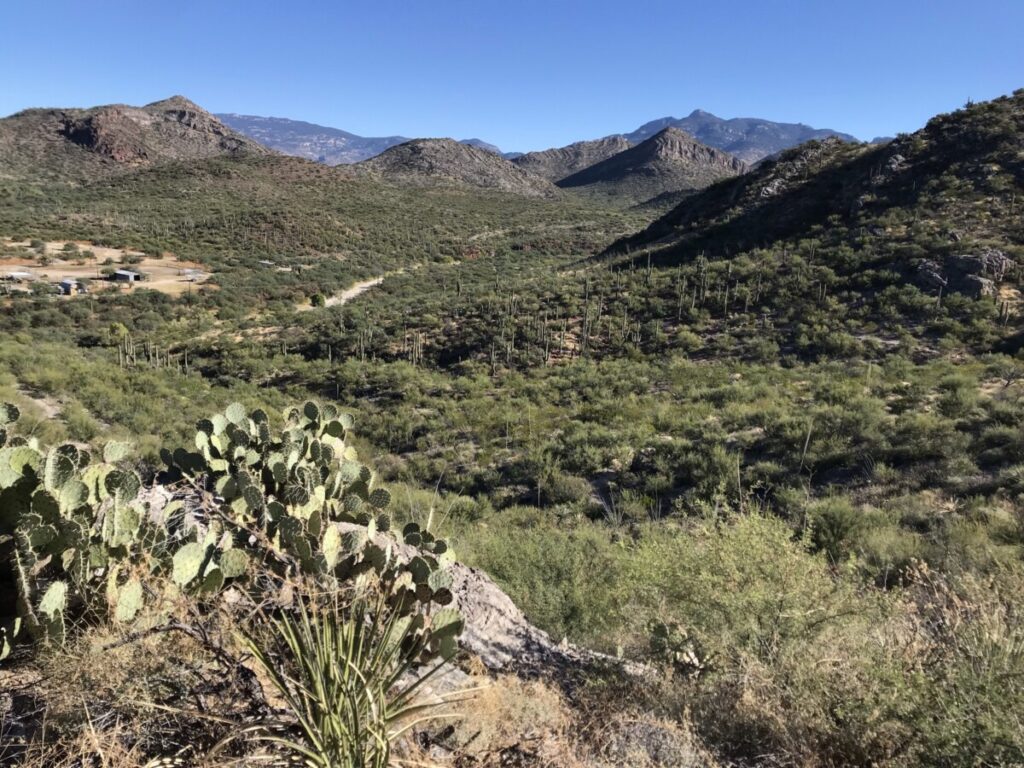 We then came to more hike a bike and lots of washes as we made our way into the Saguaro National park. This is where we started to see more bike packers and every person we saw was a boost of morale. At a campground, we had another water spigot to top off our water. This is where I met Alexandera Houchin. You can read about her in a Bicycling Magazine article here. She was so laid back and in her La Sportiva hiking shoes. She said, "my advice is to just be comfortable…I just consider myself out on a fun bike ride!". I asked her lots of questions and noticed she was on a single-speed and going to do the full 800. I was just amazed by her talent and grace!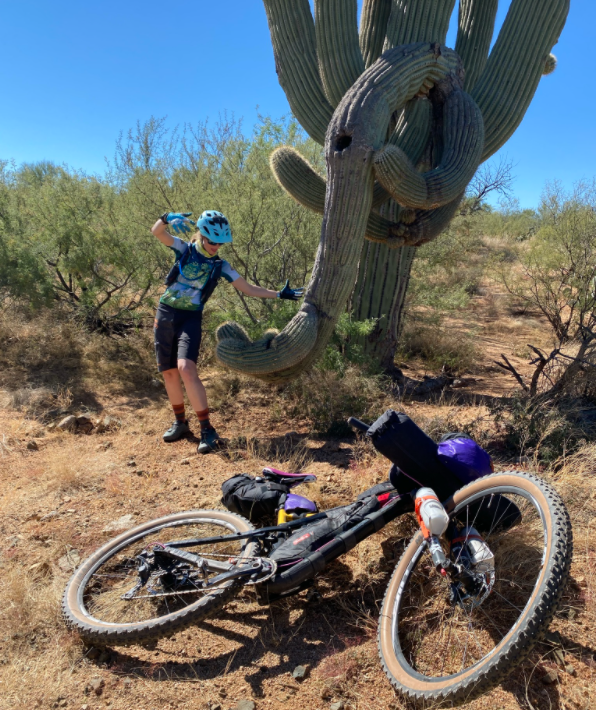 After that water supply, it started to heat up and for the time of day, there was little shade. We were now at a lower altitude that the temps would be hotter. As I was riding through the saguaros, Eszter Horanyi suddenly jumps out from a cactus in the middle of nowhere!! She started taking photos. I laughed and stopped to chat for a few minutes. She was following the race and knew how to get to all the sections to catch the riders.
As Jennifer and I kept going the heat started to get to me. I was anxious to get to the next resupply for a real meal and stock up but it seemed to take hours to get there. My Garmin Sapphire watch read 100 degrees. I kept stopping to take breaks at any shade space I could find.
We finally made it onto the pavement and I slowly made it to the Rockin J. I was overheated and calories deprived and ready to just call it quits. Jennifer had decided to pull out, her stomach was bothering her. As she was talking to Jason on the phone she handed her phone over to me. "Jason wants to talk to you."
"How are you doing." I almost started to cry, I was such an emotional train wreck. "I'm fine but I'm really tired." "Ok, you're doing great. Just get a lot of food in you to the point you are so stuffed and then eat more. Take a break from the sun and the afternoon will start to cool down and you'll be fine riding the next section. Plus you won't have all that hike a bike." I paused and even though I didn't see how I could possibly push myself anymore, I said, "Ok, I'll give it a go." I started stuffing my face, changing my devices up, and stocked up on more calories for the next long section.
It was about 4:30 by the time I left the Rocking J and headed through the outskirts of Tucson. I realized my back red blinky light wasn't working so I booked it. Once the sunset I was cautious to pull over anytime I saw a car coming behind. There was only a handful of cars so it wasn't too bad. The next section was a long 8 mile climb up a dirt road called Redington Rd. Once I was about 6 miles up I heard gunshots. It kind of freaked me out being that I was alone. I darted into the bushes and turned off my lights and texted Jason. He responded that it was just the shooting area and some guys shooting at dark. Nothing to worry about. Not something I see in Wyoming because they are pretty strict about that stuff. Anyhow, I rode past the shooting range guys and turned onto another rocky ATV road. I bumped into a couple of bike packers who had made camp already. They were fun to chat with and then I kept going to push into the night. Lots of chunky hike-a-bike sections but also some faster areas to pedal it out.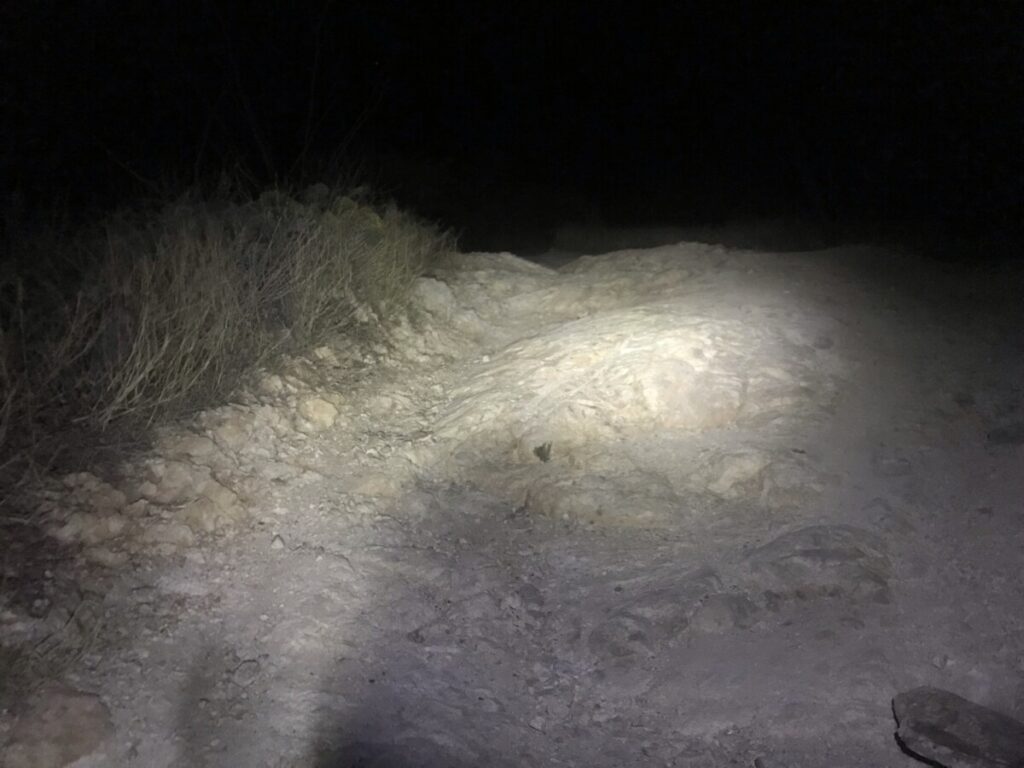 The desert comes alive at night and I saw a bobcat, his eye glowed so brightly I thought he was another biker! And I saw a coyote and lots of mice. I made it until about 10:30 pm where I was so tired I found a flat place to camp off the trail.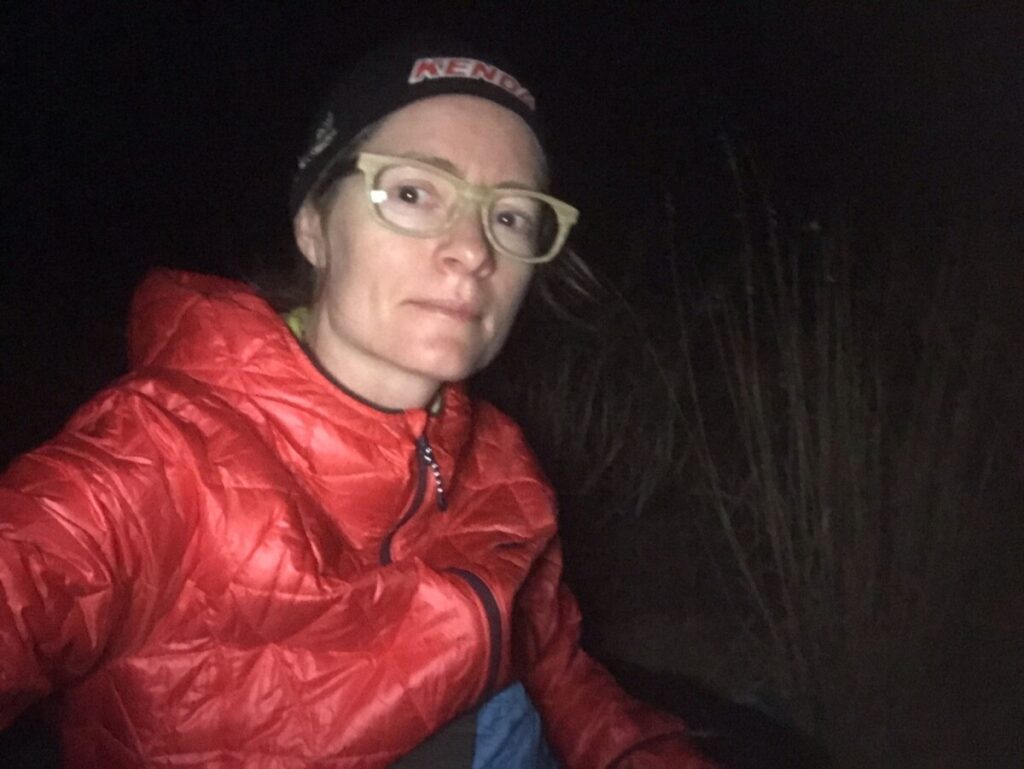 As I made camp I was about ready to bed down when I reached into my bag to grab something and ended up cutting my finger on a razor I had packed (but never used). Blood and I tried to remember where I put my first aid kit. Finally found my bandaids and then I was out.
Day 4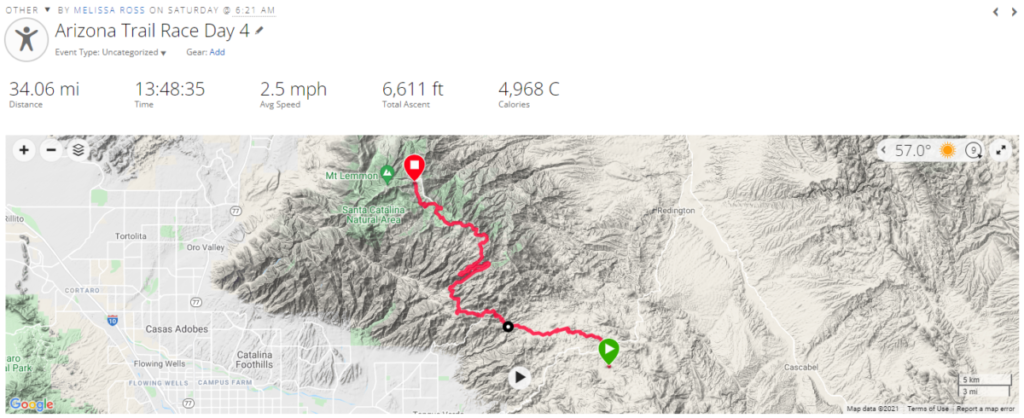 I had set my alarm for 4 am but kept hitting snooze so I didn't get up until after 5 am. I was tired but still feeling good that I had kept going. It was a cold morning so I had all of my warm clothing on, but within 100 ft of riding, I had to stop and take it all off!! In the southwest, warm air rises so the lower you are, you can be in a very cold patch of air.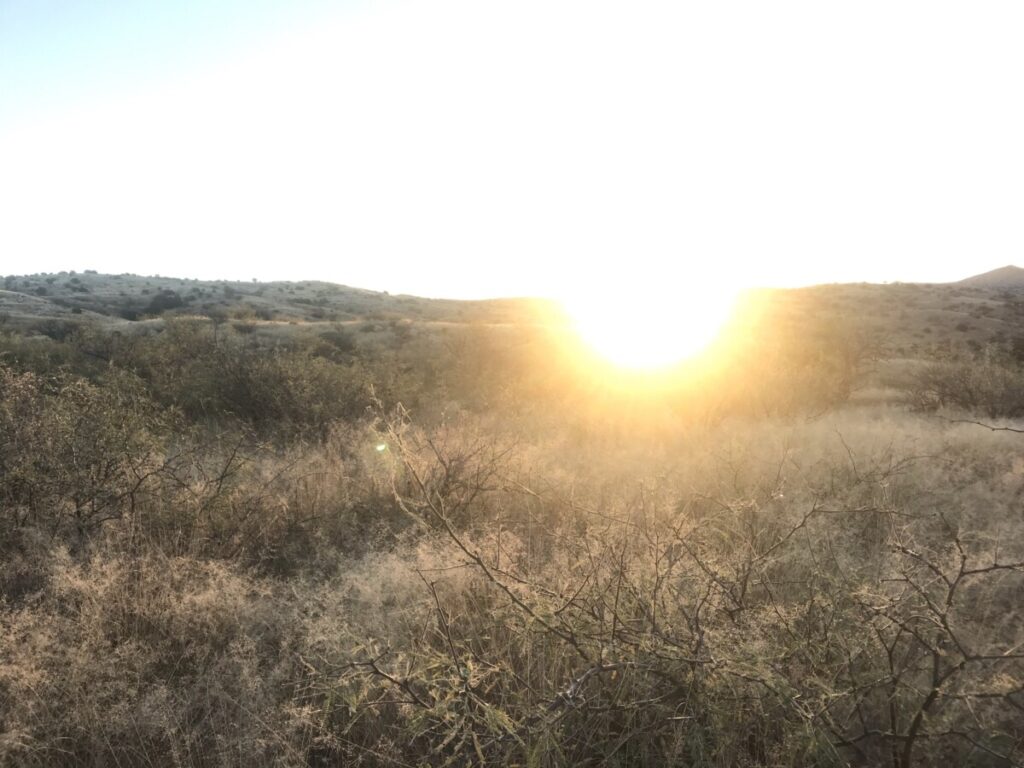 The next section of the trail was really pretty and more rideable so I was doing fine but as the morning went on I started to feel more fatigued and the heat was getting to me. I found the cow pond that Kurt had tipped us off on- it was exactly 200ft off the trail as he said and I filtered some water for my frame bag.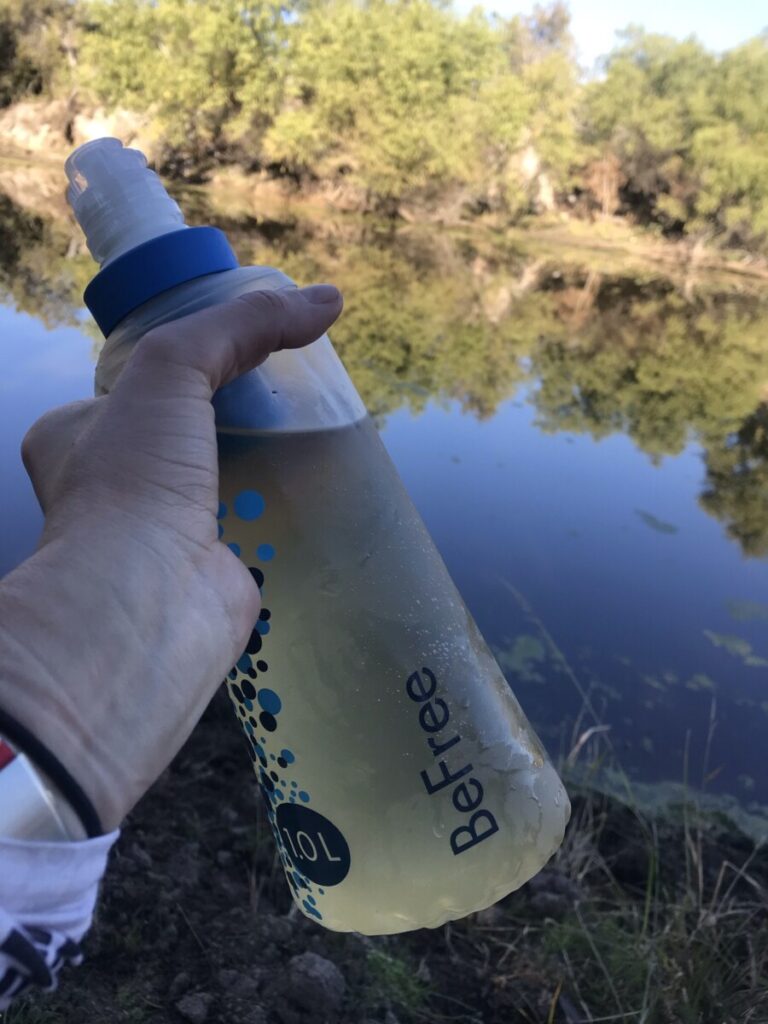 As I kept going my monkey mind was wanting me to just call it. I pushed on. Finally, I hit the famous Molino climb. It was more than I could imagine. If you have hiked the Grand Canyon, you can imagine steep rocky boulders to step up and huck your bike over. My upper body felt so weak so each step was all I could do to lift my bike up this arduous climb. Switchback after switchback it kept climbing in the hot desert sun.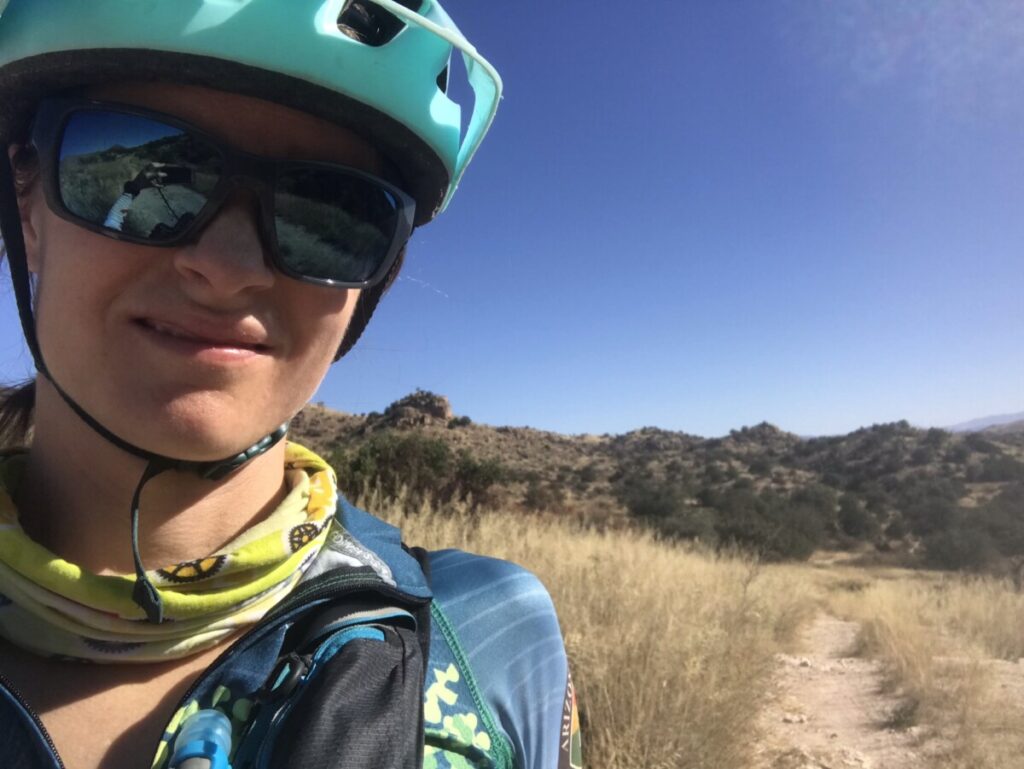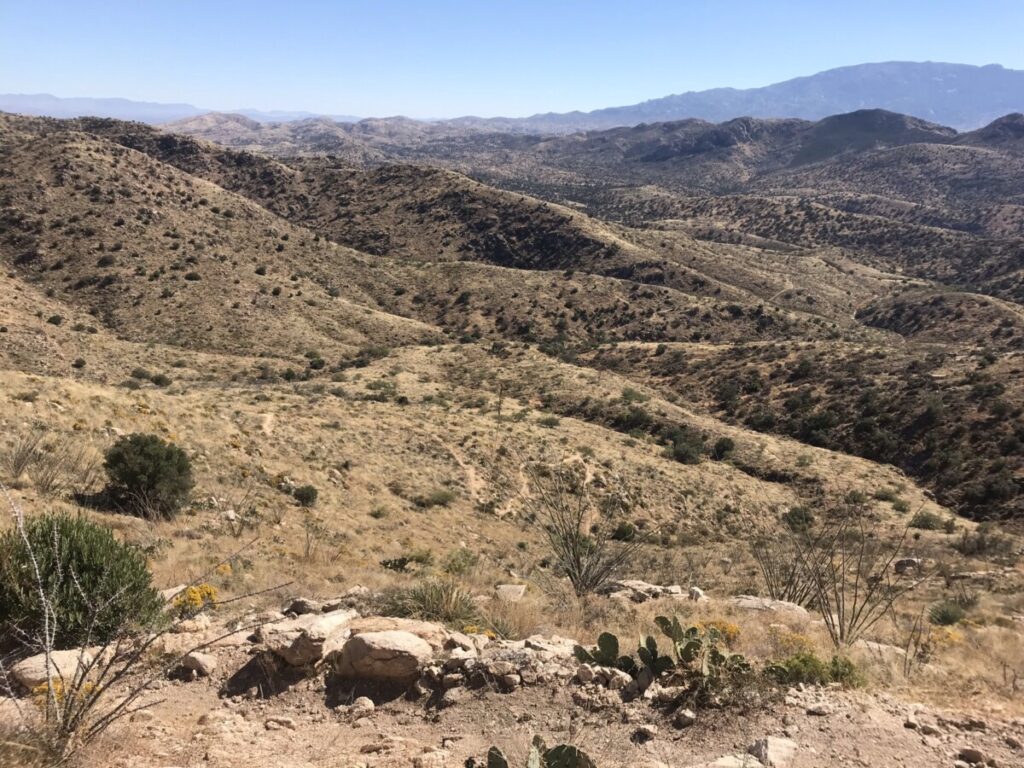 I saw another rider below and for an instant thought it might be Lindsay Nohl. She was someone I met in an online concussion group who (small world) was two years post TBI and doing this same race! (Listen to her podcast interview here.) I wanted to meet her so badly so as I struggled the rest of the way up the climb, I had some hope it was her.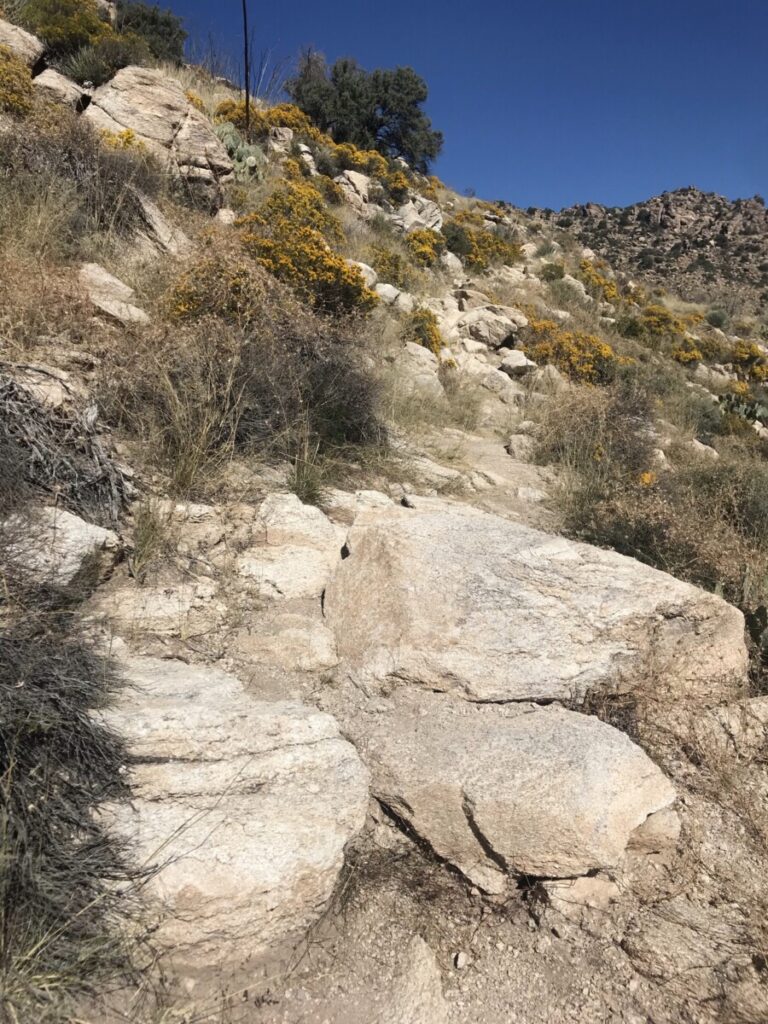 Once I crested the top, I had never been so happy to see the road! The Catalina highway was just below. I was shot and ready to text Jason to come pick me up. I sat on a rock, still in the sun, and turned my phone on. Jason had already read my mind and had texted "I know the pain you are feeling right now…giving up will be more painful than what you feel." I decided to not text him yet and just as I set my phone down, a cheery voice came along. "Hi Melissa!" It was Lindsay! She caught me in my lowest moment. She looked at me and said, "Hey, how about we sit in the shade over here." I had a pickle in my bag and I said, "ok, how about I eat a pickle too." She also had a pickle and we sat down. I was relieved to see her.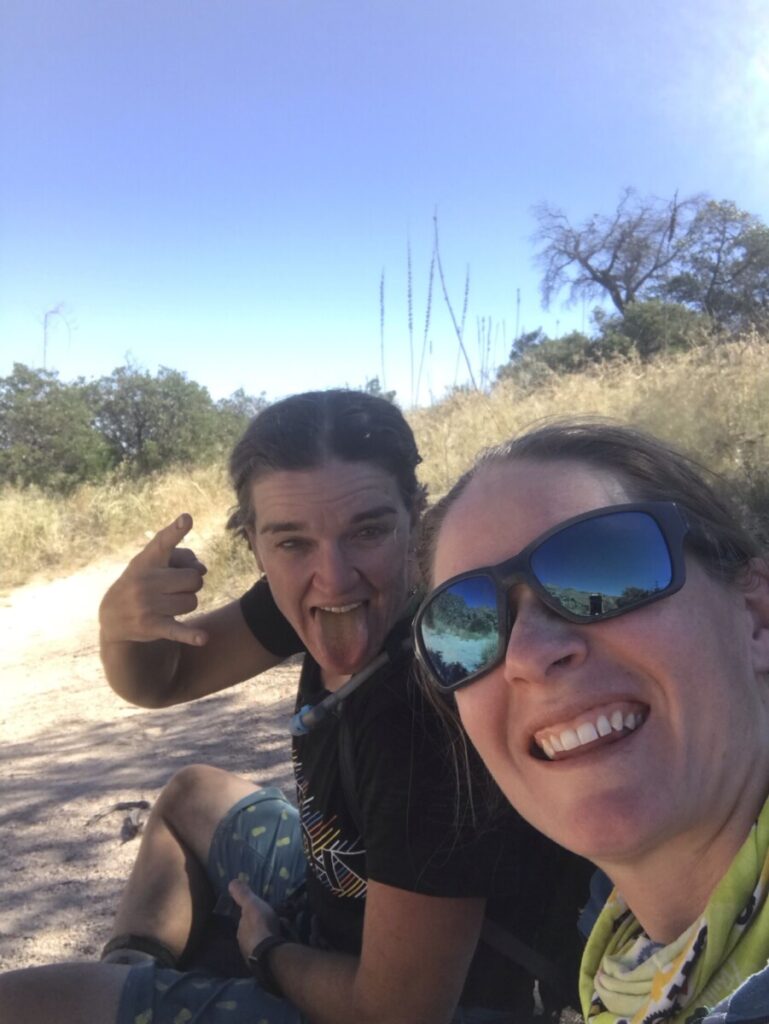 After we had some shade we got back on our bikes and rode down the hill to the trailhead and found a cache of water. We started to talk about our brain injuries and as we talked, I decided I wanted to keep the conversation going so I kept moving forward. It was like the first time I'd had such an intimate talk with another TBI warrior, it was something I think we both needed. She invited me to keep riding with her so I decided to give it a try and just commit to the Lemmon climb- 20 miles up the mountain. We knew at our pace we wouldn't hit the resupply store at the top because it closed at 6 pm. There was however a spigot of water at one of the trailheads on Palisades.
We rode into the dark and luckily Lindsay had a working taillight so she saved me there! At the top was a new section to ride called sunrise loop. It was more hike-a-bike.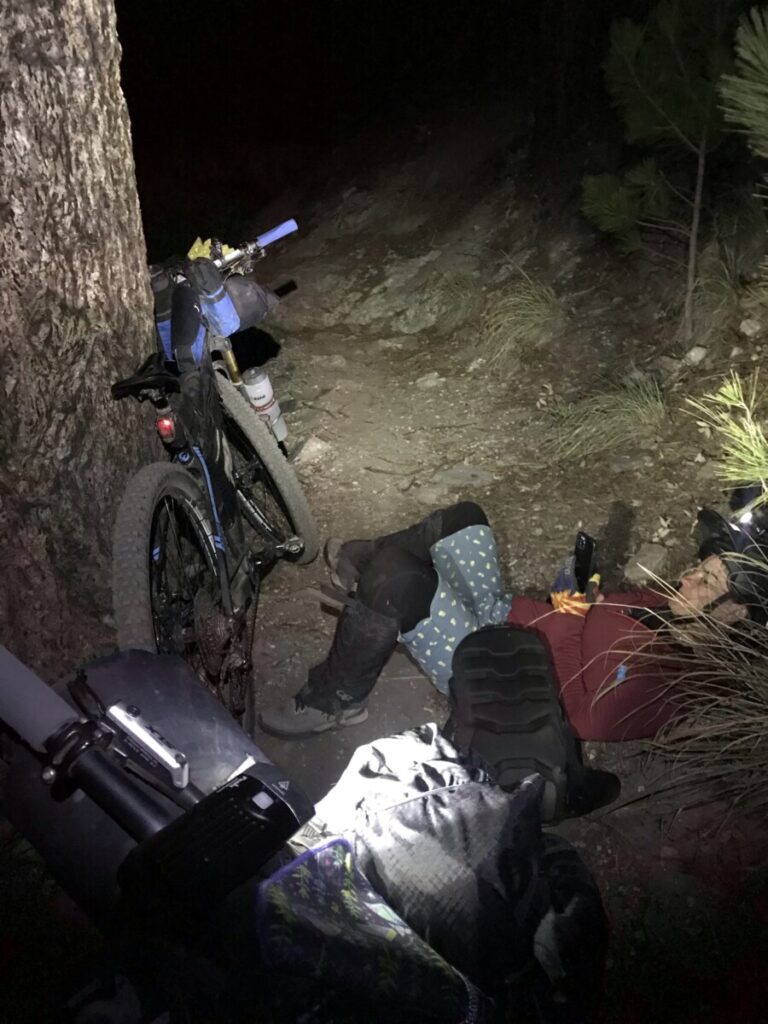 We finally came into Summerhaven around 8:30 pm and decided to take a rest. The Community Center had an open restroom and Post Office across the street. We had met a hiker in the bathroom who was doing the full AZT and she mentioned the post office was open to rest. I stayed in the restrooms and charged my devices up and took a needed rest before we headed back out at 3:30 am.
Day 5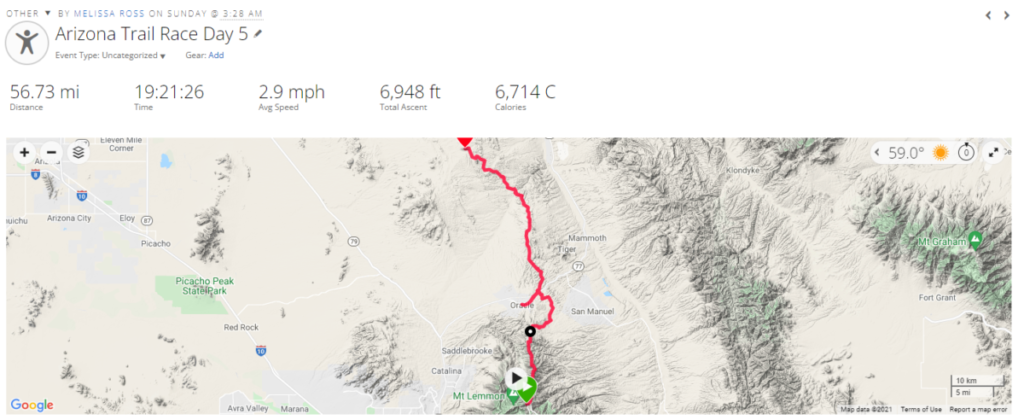 The morning Lindsay had slept on her hydration bladder and woke up to a wet bag and sleeping pad. She took her stuff into the bathroom to dry off as much as possible before we started the grueling Oracle Ridge section. I had no idea what to expect but imagined walking over rocky trails but never hiking my bike on a steep ridgeline with huge bouldering sections.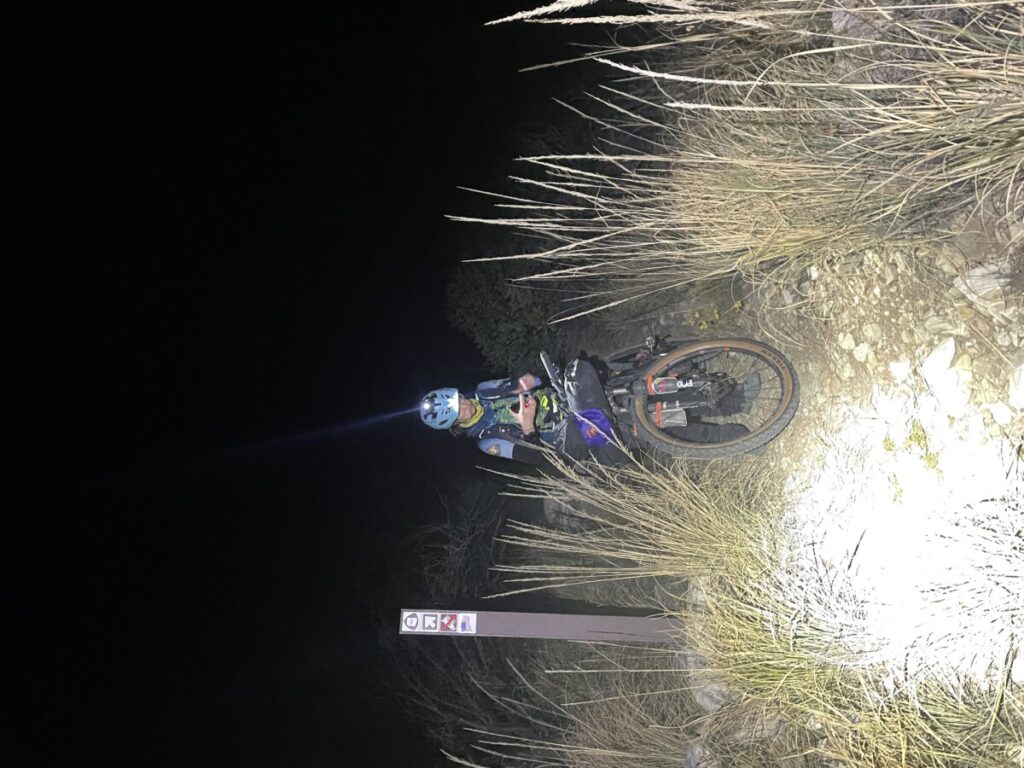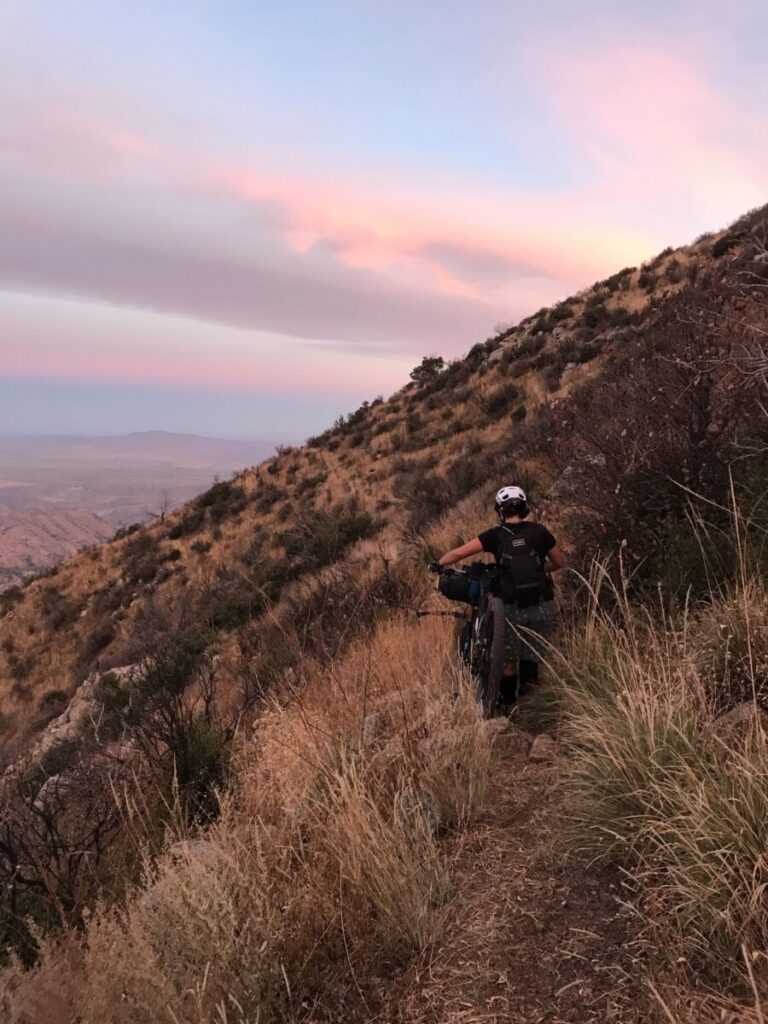 The ridge kept climbing up too and that messed with my head because as you can imagine, coming off of Mt Lemmon, you think you're supposed to go down. Nope, you go up more! Lindsay had the race cue sheet out and would announce each section coming up. "The next section is the 'Traverse of Death'". "Cool," I said. "I can only imagine how hard this one is going to be!"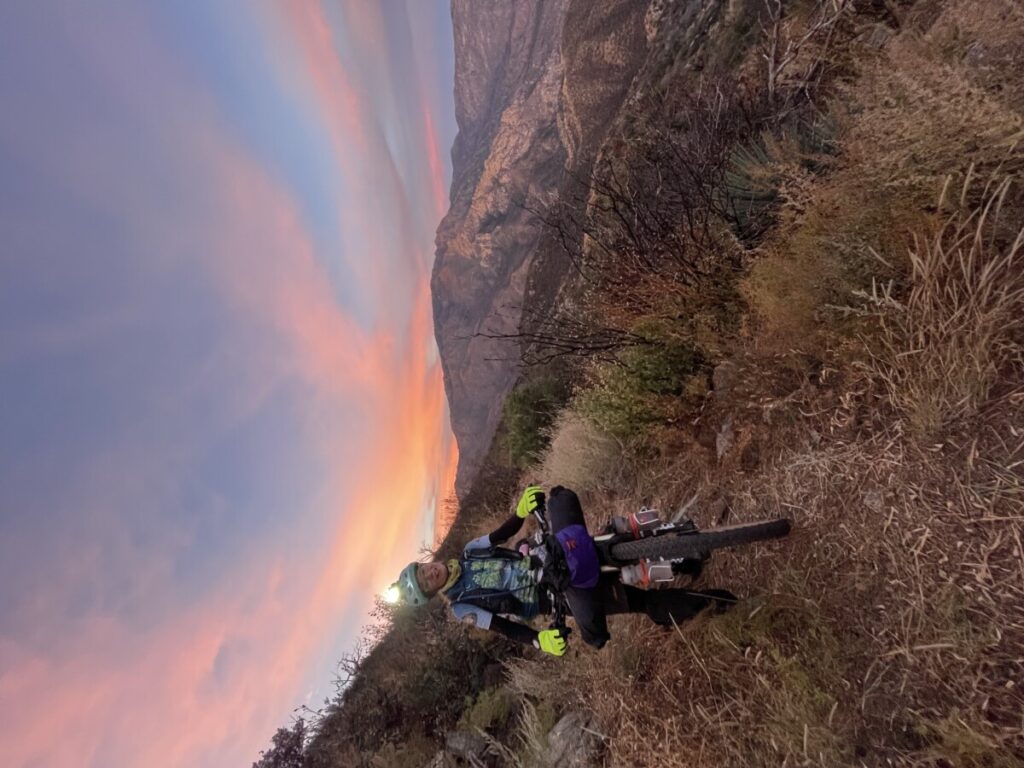 Oracle Ridge kept blowing my mind with how technical it was and I had to focus all my brainpower to push myself through. Once we finally made it off the steep sections we came to the dirt roads. These were exceptionally steep and rocky so I was cautious.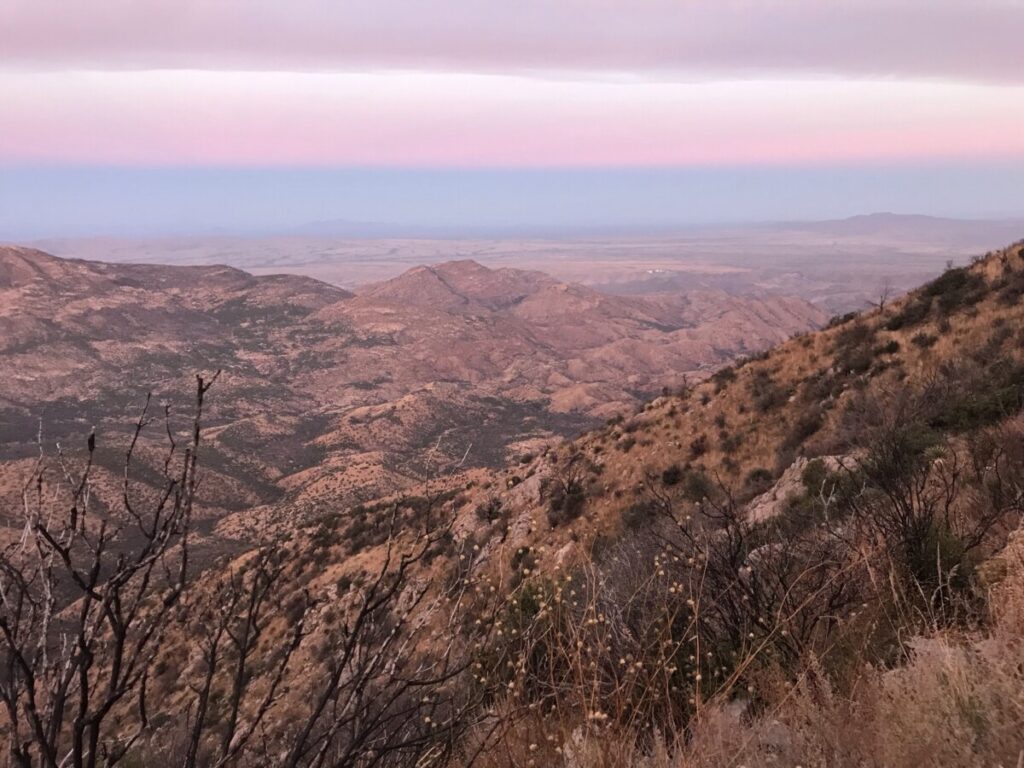 We made our way off the ridge but I noticed that Lindsay was flying! Once I caught her I told her she needed to keep going on at her pace and I was grateful to have ridden with her.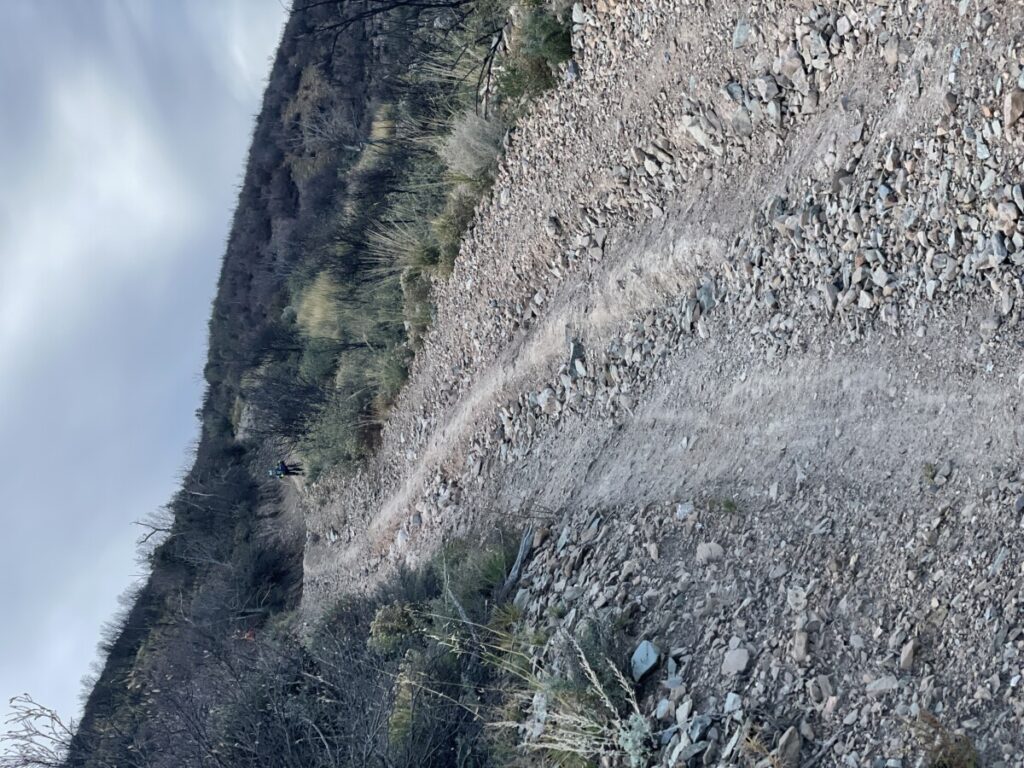 After Lindsay left I became a rollercoaster of emotions. My body was so tired and I was running low on calories since we missed our resupply on Lemmon. As I rolled to the bottom of the ridge into the American Flag trailhead, a nice couple stopped to talk to me and offered me some water. Every time people would ask where I was going I would tell them Picket Post but didn't believe myself- I still wasn't sure how I could complete the full 300.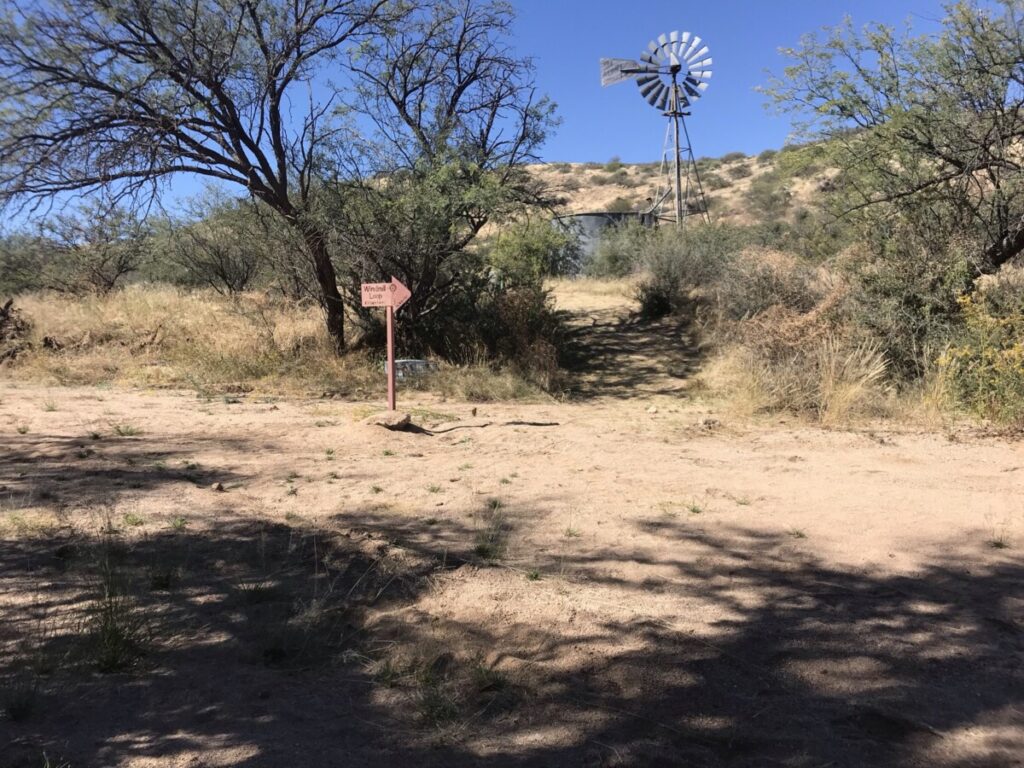 The hot sun beat down on me, as I hit the flowing singletrack.  I came to a wash with a windmill and saw a bench in the shade. I stopped to enjoy a short nap on this Eagle Scout project. I continued on, the desert seemed to go on forever. I was struggling and finally stopped to text Jason again. "I am struggling, I think I might stop at Oracle." My phone rang and he gave me another pep talk. "Melissa, I know you will regret quitting in 24 hours. Get to town and eat a big meal and then pack an extra dinner to go and eat that a few hours later. If after you ride 5 miles and decide you are done, I'll come to get you. You just got through the toughest part of the whole route. Think of these next 100 miles as your celebratory miles that you earned!!" I nodded my head. "Ok, I'll get to town." I slugged my way into Oracle which was 5 miles off route and stopped at The Tavern for a decent burger and lots of coke and water and ordered a pulled pork sandwich and tater tots to go.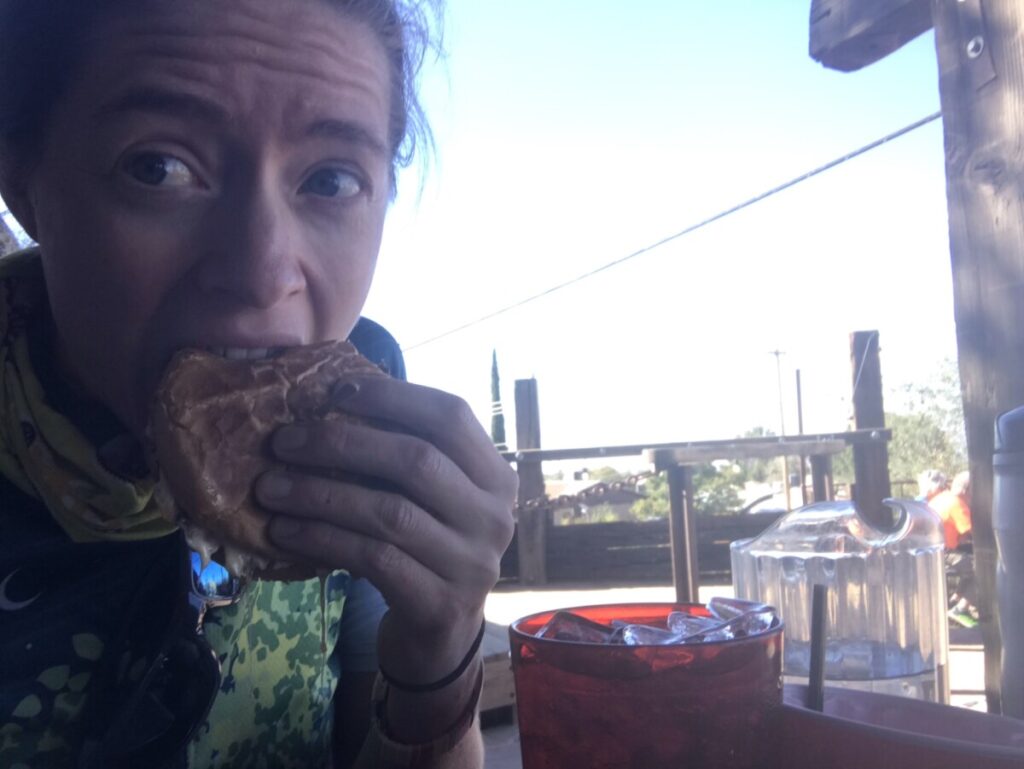 I talked to a couple of bike packers who had started in Utah and we're headed south. They reassured me the next section of the trail would be more rideable and very scenic. I then rolled further into town to stock up on more food and top off my water. The guy at the market was kind to fill an ice pitcher of water to fill up my bottles and camelback.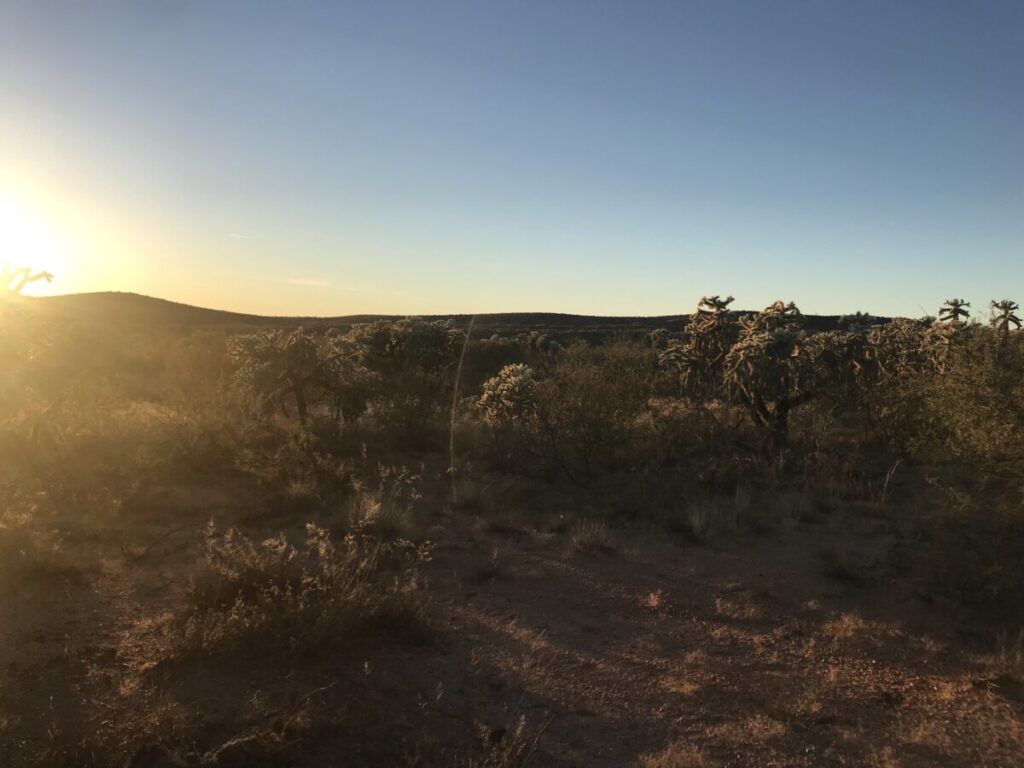 As I took off to my next 100 miles I knew that meant I would finish because there wasn't another place to bail. When I hit the Tiger Mine section it was, in fact, a flowy and faster section compared to what I had been through so I did find the miles more rewarding. I stopped just before sundown to inhale my second dinner of pulled pork, took out my contacts, turned my lights on, and headed in for a long stretch of night riding. My goal was to get to the Freeman Trailhead where Jennifer would meet back up with me and finish the rest of the ride together. For a day where I was ready to give up, I put I my longest ride! I pushed late into the night and became so delusional and tired. The cholla bushes looked like small children holding hands and at one point I thought I saw a white Jesus statue which was a large saguaro. In the washes, I would start to have a hard time finding the next section of the trail so it was so helpful to have my navigation settings on my Garmin Sapphire 6 to zoom in and see where I was.
I finally pulled into Freeman Trailhead after 12:30. I had been up since 3 am so I was exhausted. I didn't even notice I was camped right next to Lindsay too!!
Day 6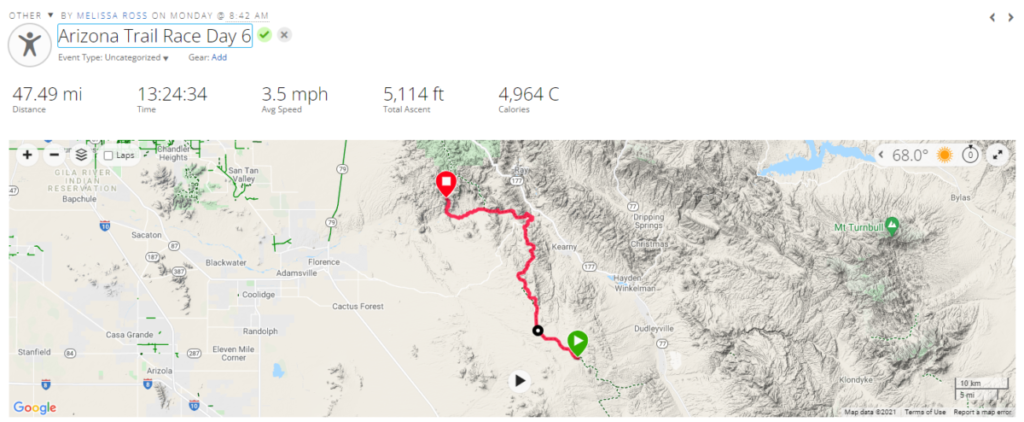 Lindsay took off at 6 am and I was so passed out that I missed here and woke up to the bright sun. 8:30 am. Oops- guess I needed that rest! Jennifer was there and ready to ride again. She was amused watching me struggling with my contacts. My hands were becoming numb from the long day on the bike. I finally got them in after dropping them several times and we were on our way through some familiar trails.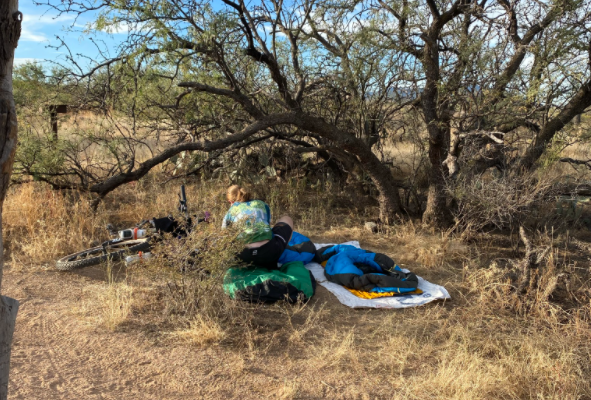 This day might have been one of my favorites. The changing landscape was breathtaking and for once, I had fully committed myself to finish so no more monkey mind! These trails were Jennifer's backyard so she showed me every landmark and plant and kept reminding me where I had come from the day before. "Here's some perspective Melissa" as she would draw a line with her hand across the horizon. It was almost hard to swallow this vast wilderness and desert that we had crossed.
We climbed up Ripsey and ripped down the backside. I felt like I was back on my old trails in Phoenix. When we got to Kearney, there was another cache at the trailhead filled with water and a bag of snacks labeled "trail magic". We happily stuffed ourselves with rice crispy treats, animal crackers, and cheez-its. Then we rolled across the road and onto more trails before making it to the river.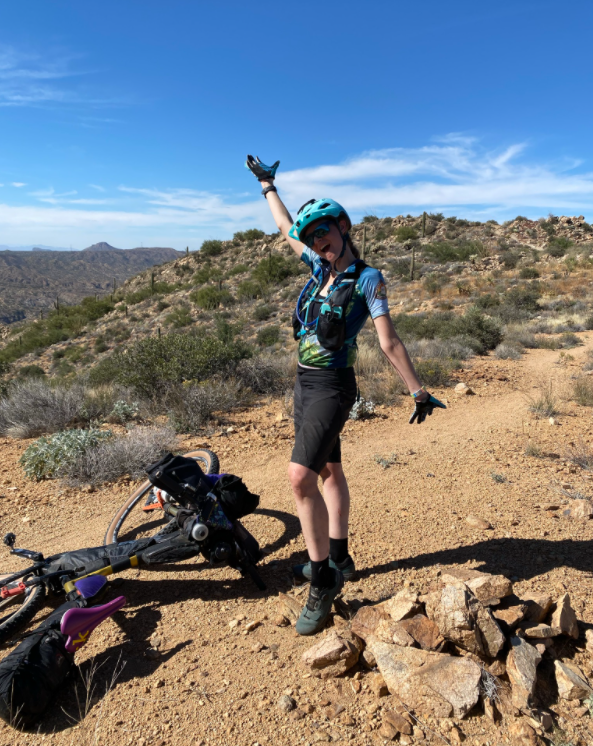 There was another water spout at the water service department for hikers and bikers so we stopped there to top off and rinse off our hands and faces. A hiker named "Trout" was waiting on a ride to town and we enjoyed hearing his stories. He had done the Triple Crown and was extremely interesting!
The next section for us was climbing up the Gila Canyon. This was a long climb but was rideable and breathtaking. Trout had even said he liked it more than the Grand Canyon if that gives you some perspective. I saw a tarantula on the trail and stopped to take pictures of the sunset.
We timed it right as the cooler temps made this long climb more bearable. As we rode into the night we worked hard to get to a campsite that was 3.5 miles past the Gila river. Since we didn't use as much water from the evening ride we didn't have to stop to filter more water. At one point I brushed a tree with my face that had long thorns and the thorns tore at my nose and lips.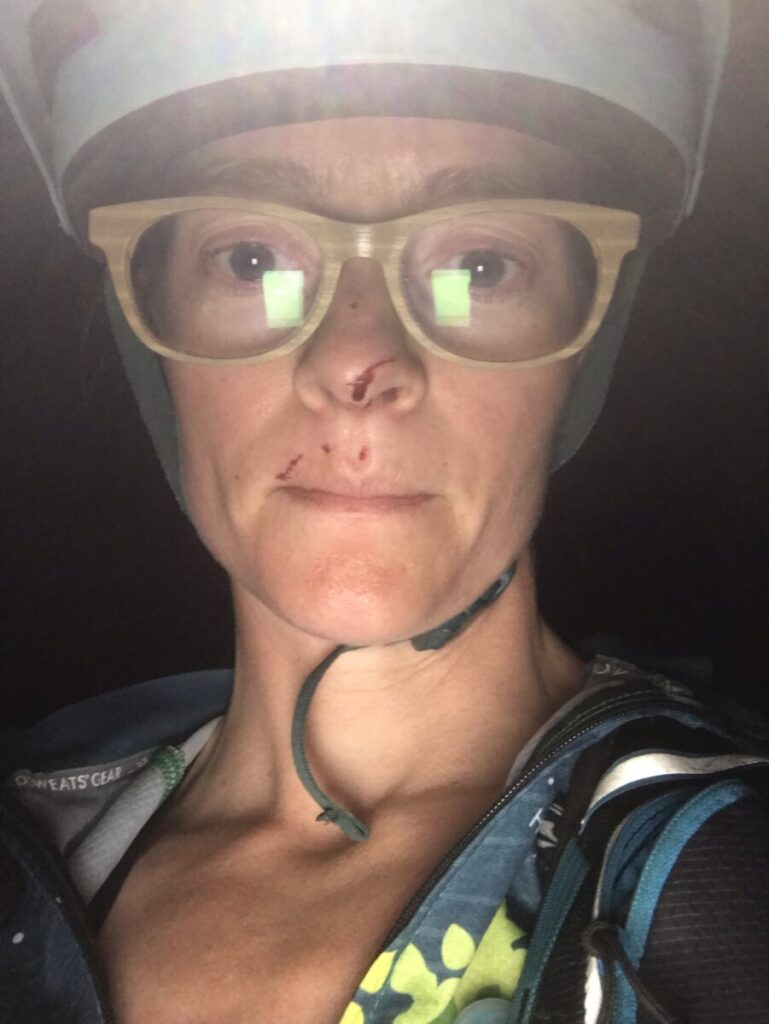 I was getting really tired. What seemed like forever, we finally found our special camp spot only to see another tent there! I was dumbfounded because we had not seen another person and our spot had to be occupied!! We snuck in anyhow and bedded down, enjoying the amazing sky above.
Day 7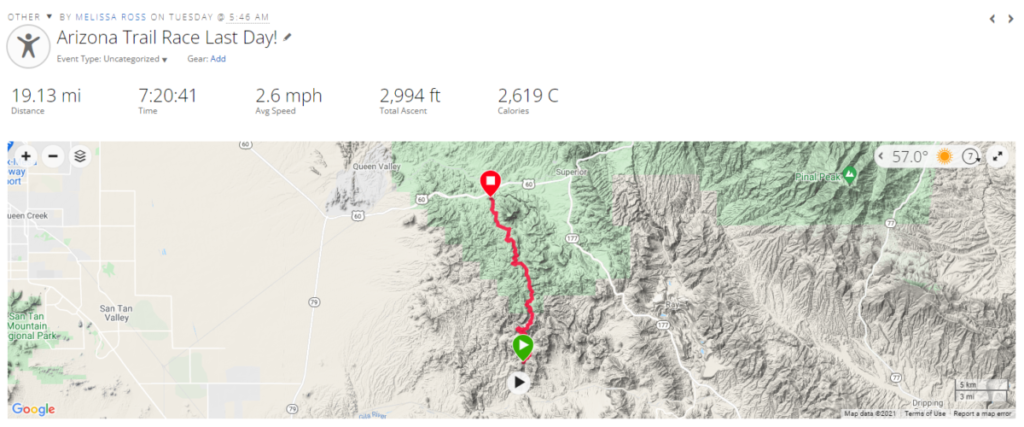 I set the alarm for 5 am and was ready to get this last leg done! We had more climbing out of the Gila Canyon and a double bonus was seeing the sunrise too. My legs were feeling good and my spirits were high. I kept thinking about what this journey had done for me and the friends I had made and reconnected with. More than anything this taught me that I could push myself way past my imaginary limitations and it had helped me work through the grief I had from my brain injuries. I laughed remembering how a lady at the restaurant two days before had asked me about my trip and gave me a funny look when I told her I was on a "momcation".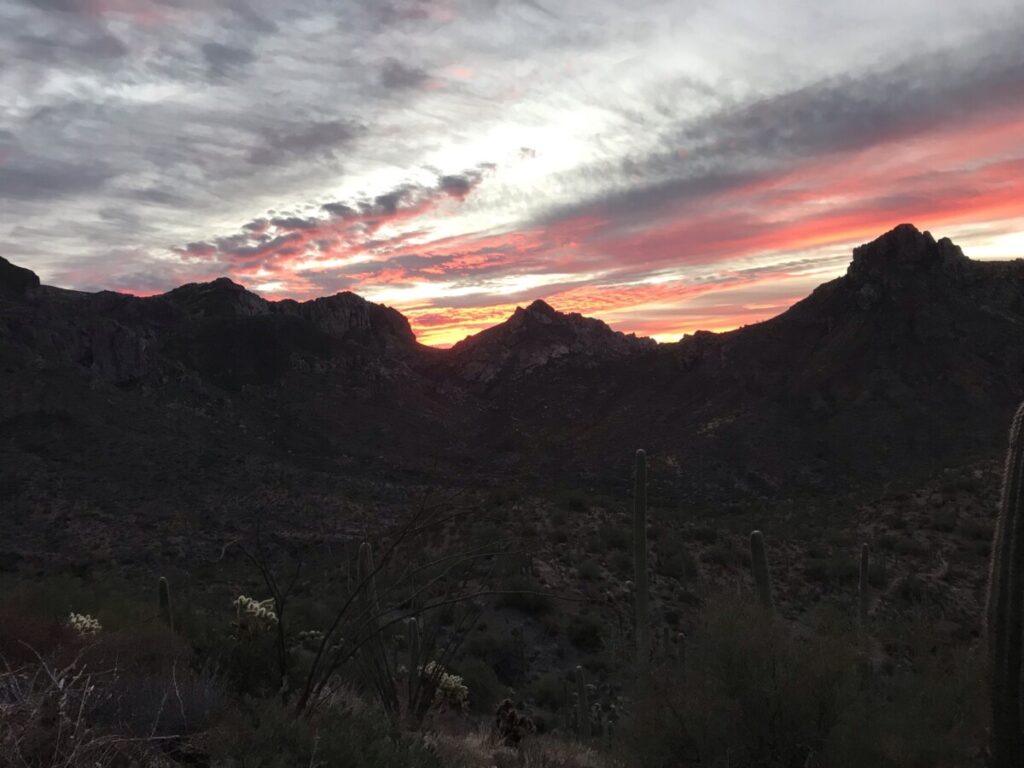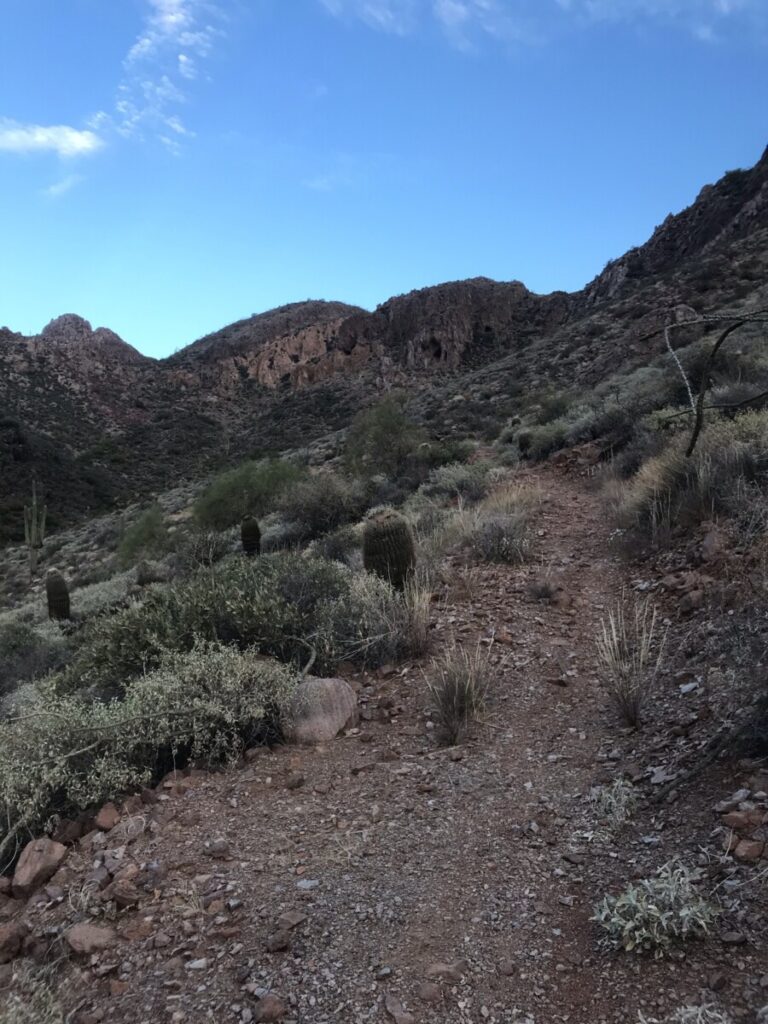 We saw a lot of hikers doing the full AZT and rode through areas that had been burned in a recent fire.
As we got closer to Picket Post my excitement grew as I could see the landmark in sight!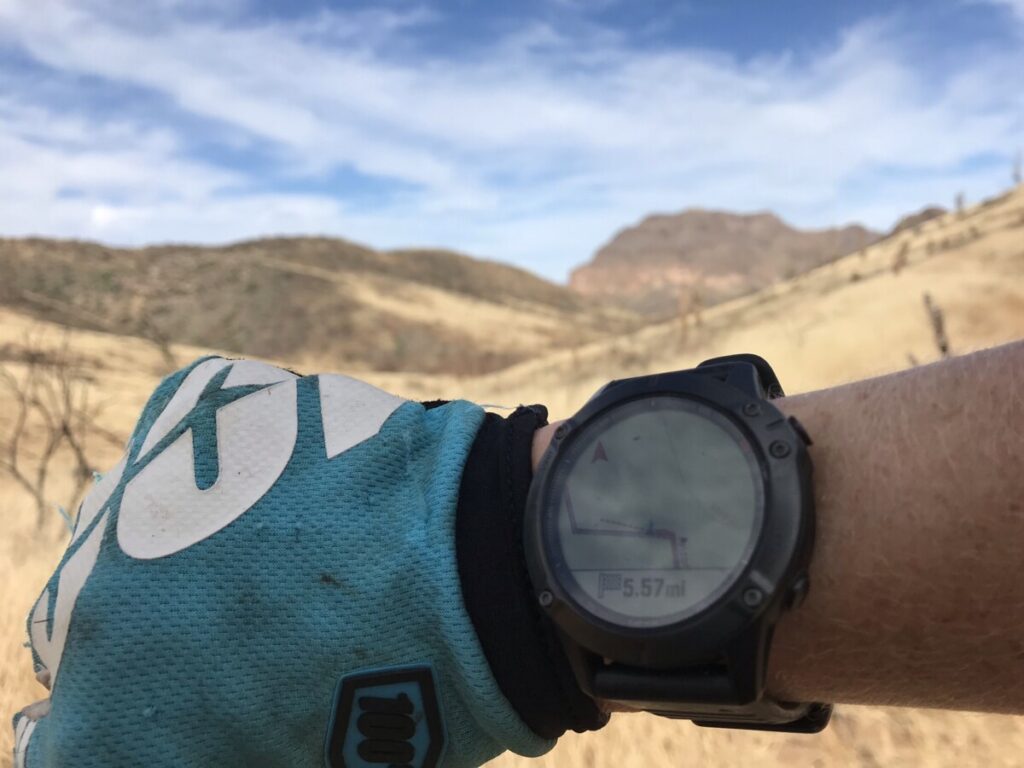 Just two miles to go I kicked a prickly pear cactus and had to stop to pull the needles out.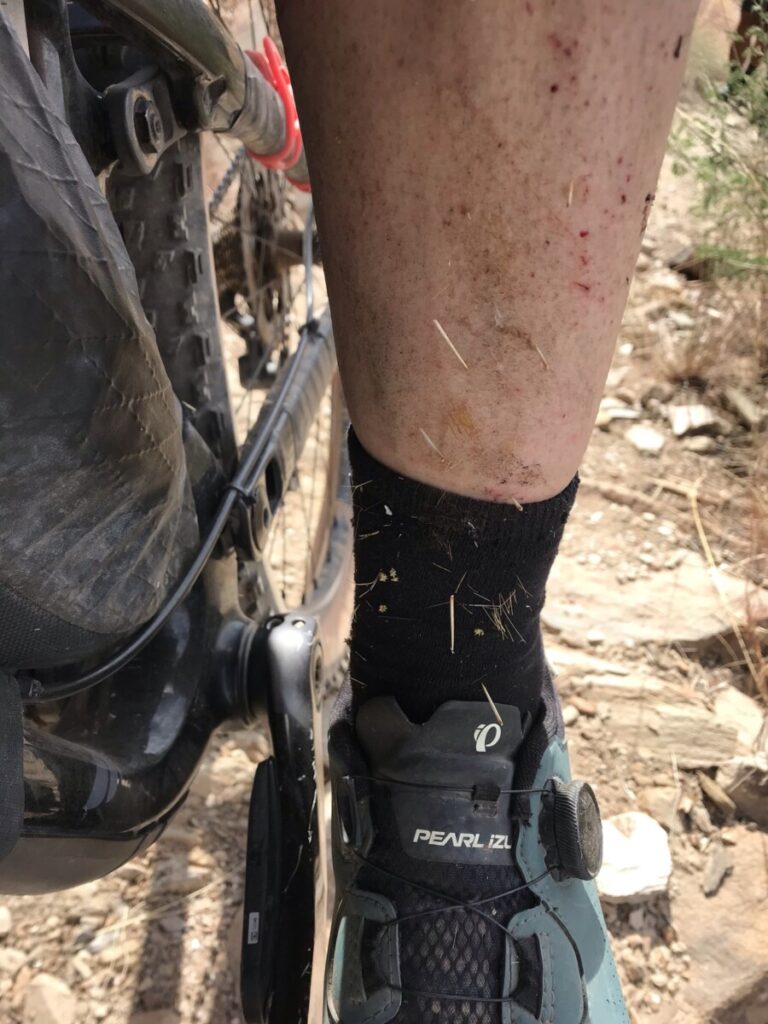 At one mile left I took off with so much excitement and was surprised by my friends Jason and Shelby waiting at the finish with cold beer!! Lindsay was there too waiting with a big hug! She had pulled a long night and finished late the night before.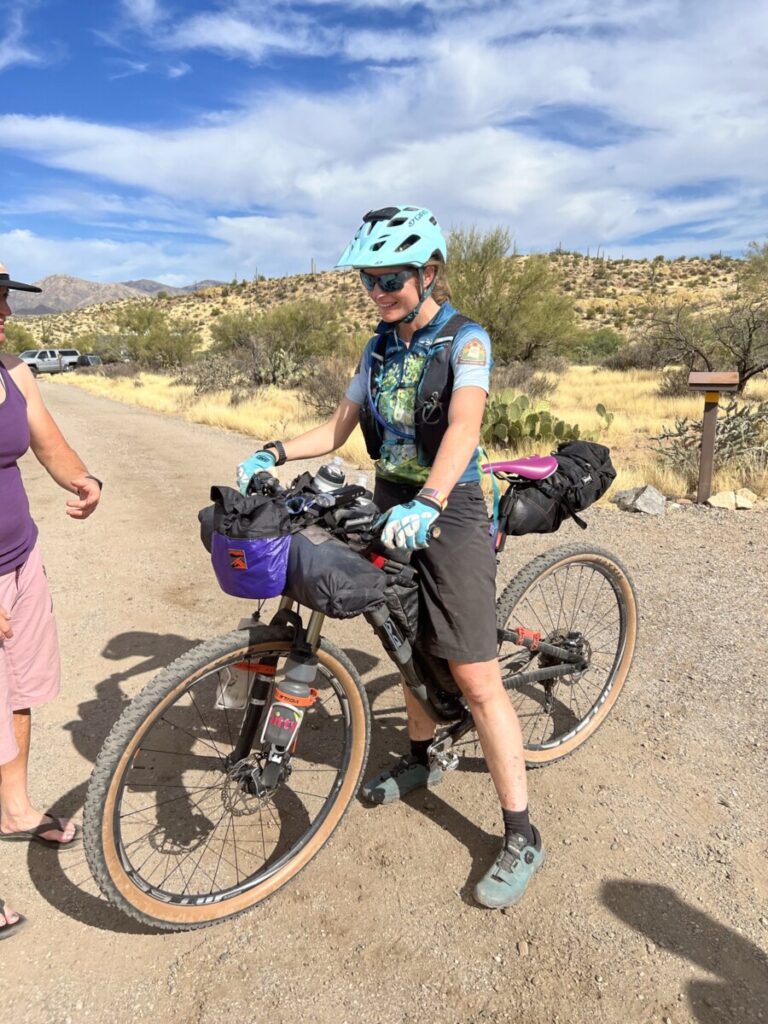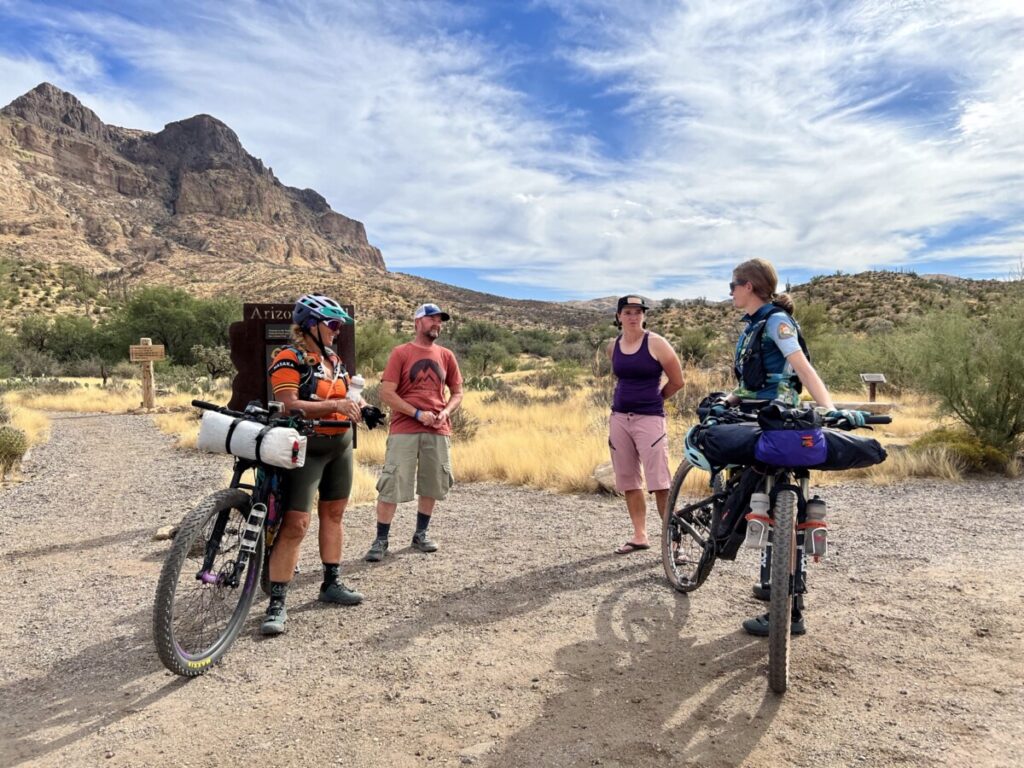 I was so proud to be done and knew this was the hardest I had pushed myself. Jason was right, the reward of finishing and not giving up was priceless and worth the temporary pain that I had felt.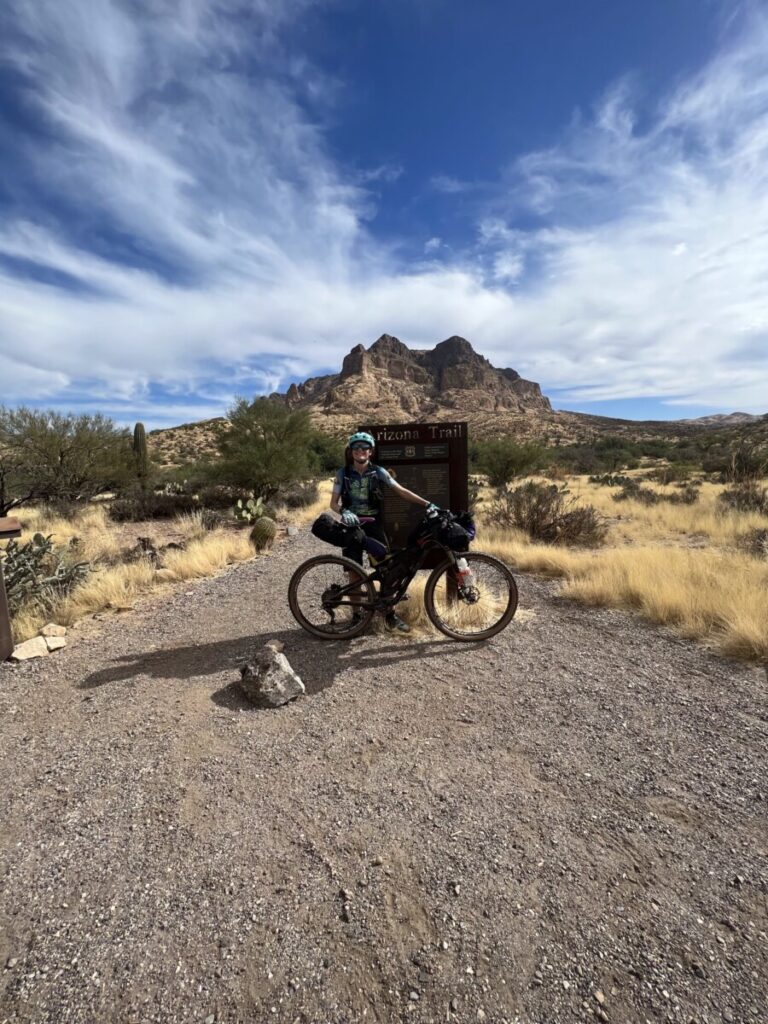 Thank you!!!
I am so grateful for my friends the Hanson's for supporting me on many levels to get here. Jason for talking me off the ledge multiple times and Jennifer for giving me company and teaching me so much on this adventure.
I am so thankful for my husband Aaron who has been my rock through my brain injury and supporting me in doing this wild adventure plus being super dad. My kiddos too!
My in-laws Cathy and Glenn have helped us a lot through my recovery.
My parents and siblings always believe in me.
Lindsay Nohl for being my Trail Angel and helping me through one of the most difficult sections of the race and letting me tag along for part of this amazingly gnarly adventure!
Lastly, John Schilling for organizing this epic event!
If you want to learn more about the Arizona Trail – go to https://aztrail.org/