So you want to be coached, but you have questions?  Here we will try to describe the way we coach our athletes and non-athletes alike to perform at their best for racing and the events they focus on.
How does it all work?
Coaching is as much art as it is science. It all starts with a phone call. Talking on the phone is one of the ways we make sure that our coaches are compatible with YOU. In order to get the most from our coaches, you need to be able to relate to each other. Getting on a quick call to talk is the best way to know if you are right for each other.
After the initial call, your coach will review your past training, current goals as well as your personal limiters. These can include things like past injury, work, and family commitments as well as fitness-based limiters. You will also talk about goal setting and how coaching is delivered and reviewed.
We use a software called Training Peaks to communicate, deliver and monitor your workouts. This is a very powerful tool and it allows us to "virtually" be with you during your workouts. With a simple recording device like a smartphone or a more complex GPS, power meter, cadence and heart rate sensors we can dissect each of your workouts and look at all of the numbers.
How do you know if I'm getting the Workouts done?
As coaches, we see all of your uploaded rides with plenty of data to crunch. Using something as simple as a smartphone linked to Strava or a more complicated GPS unit with a power meter or HR and cadence sensor we can really dive deep into all of your ride data.  If you are a runner, there are plenty of metrics to look at there as well.
How do you prescribe the workouts?
Testing your current fitness with the use of RPE, power and or heart rate allows us to set your Zones. These zones are the way we structure your workout. A good description of zones can be found here.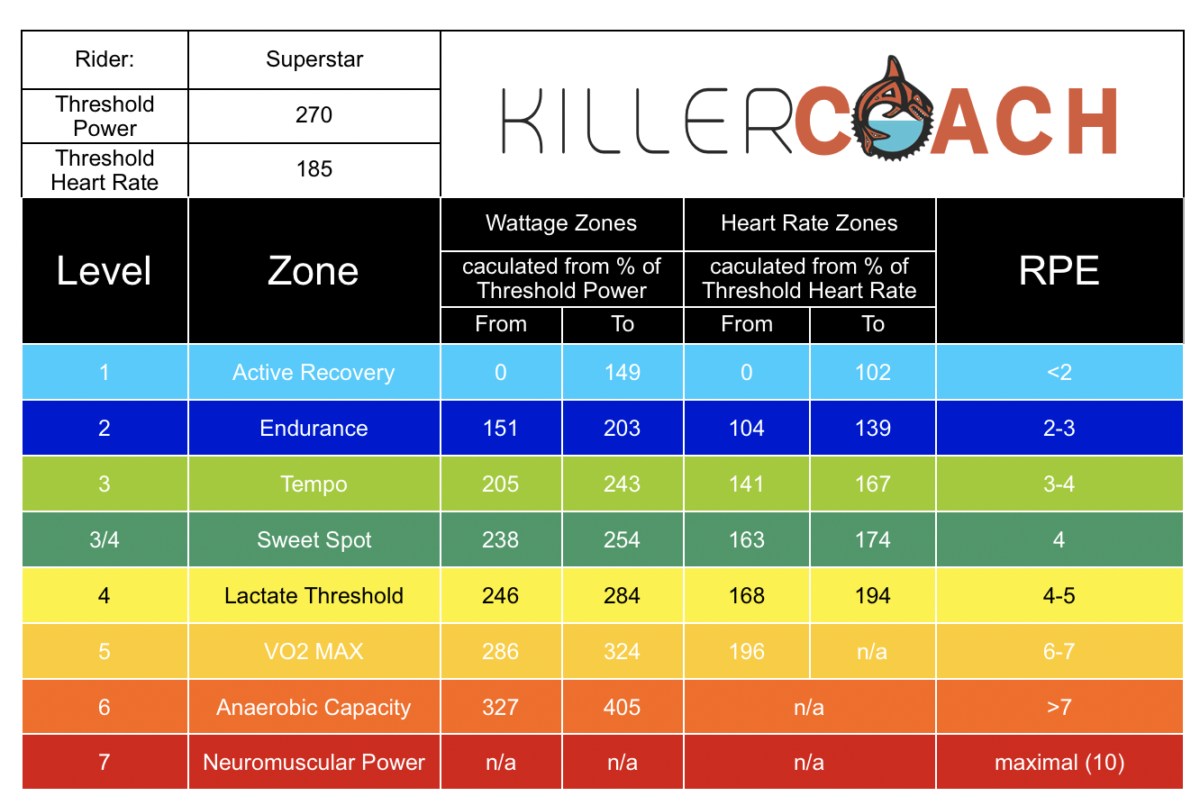 What if I don't get the workouts done?
We understand that "life happens!" This is where the real benefit of our coaches comes in. Got some family coming to town and you don't fit the intervals in for today? Don't fret, your coach will make sure you don't miss them by revising your plan as needed. At Killercoach, we don't limit the interaction with your coach, so call, text or email anytime. We need your feedback and communication to really make your plan KILLER!
I'm not really an athlete. Would you coach me?
We hear this all the time. You don't need to be a top-level athlete to have a coach, although we'd welcome you to Killercoach. Most of our athletes are working moms, time-crunched professionals and weekend warriors that just do not have time to plan out their athletic lives.
Got a big goal?
If you are interested in seeing just how fit and fast the coaches at Killercoach can make YOU, contact us!  We'd love to chat!